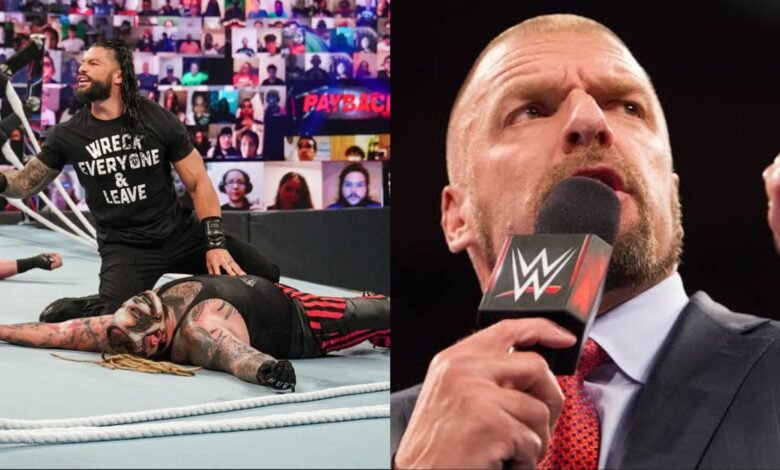 Welcome to today's WWE Clash at the Castle 2022 news roundup. All WWE news filtered for the WWE Universe. A recently returned big name has teased a big match involving himself and 3 others. If this is true, then Clash at the Castle is set to be a star studded spectacle.
A returning former champion wants a change in look and a new match  involving two top stars has been officially added at Clash at the Castle. Let's see the details.
Bray Wyatt dominates today's WWE Clash at the Castle 2022 news roundup

From Karrion Kross's IG pic.twitter.com/4FJiVwLLMW

— Xero News (@NewsXero) August 16, 2022
Recently returned Karrion Kross has sent the WWE Universe into speculation by sharing a fan made picture which shows him, Roman Reigns, Drew McIntyre and Bray Wyatt in a fatal four way match for the Undisputed titles at the Clash at the Castle. The picture was shared by a fan in their account and Kross shared it into his Instagram story.
But this match probably won't be happening and is just a fantasy because Kross has a habit of sharing Fan art regularly in his stories and nothing much should be made of it. Also according to Wrestling Observer Newsletter, there are no plans of adding anyone to the match between Reigns and McIntyre at the Castle and Wyatt's return isn't guaranteed either.
But this match would be lit if it were a reality. What say?
Sasha Banks shows off her new look

💚 Pull up in the monster
Hi @MarkRuffalo pic.twitter.com/8Ub2WxcWel

— Mercedes Varnado (@SashaBanksWWE) August 16, 2022
The Boss, Sasha Banks, has had a beautiful change in the way she looks amidst rumors of her return back to RAW with her partner Naomi. She went on Instagram recently, asking about a hair stylist in LA in her stories.
Hours later, she posted again, about her new flowing locks where she looked ravishing. Triple H has been hiring back released talent and helping all ignored talent and with this new makeover, we feel the Boss could be on her way back sooner than later.
Seth Rollins and Riddle feature on today's WWE Clash at the Castle 2022 news roundup

A New exciting match will now take place at the Clash at the Castle on September 3 at the Principality Stadium in Cardiff, Wales. It's Seth Rollins vs Riddle and it was confirmed on the 15th August edition of RAW. Riddle appeared via satellite, supposedly, to give an update on his health to the WWE Universe and Seth Rollins interrupted him.
There was a war of words before Riddle appeared in person (apparently he was just backstage) and ran to the ring to confront Rollins. After some back and forth action, the Bro got the better of the Visionary, who dashed via the crowd to safety. Riddle chased him backstage and announced to the interviewer that he will be officially challenging him to a match at the Castle. These two talented superstars will definitely deliver one fantastic match.