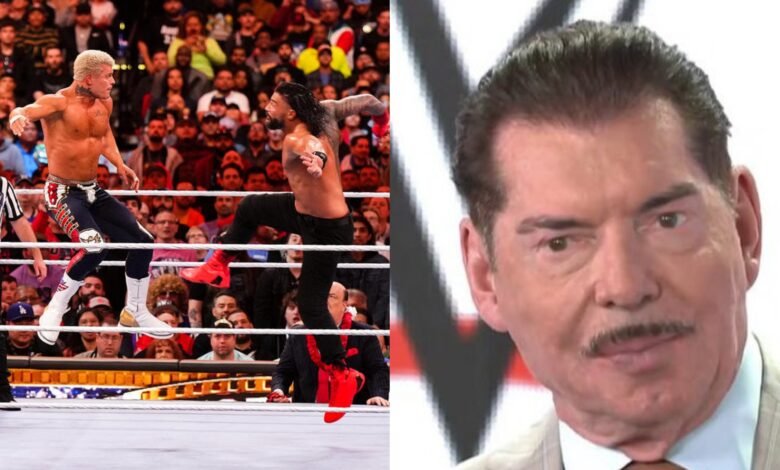 Roman Reigns just beat Cody Rhodes in the main event of WrestleMania 39 today. But this booking has made the wrestling world speculate if Vince McMahon had anything to do with it. Roman is Vince's golden boy and his rise to the top has been McMahon's doing. Now since the 77 year old is back in the company, although not in a creative role, people think maybe he is behind Roman's big win.
However, Fightful Select has clarified that McMahon was "not involved in the decision-making" for the WrestleMania main event.
The way the story developed between Reigns and Rhodes felt like Cody was going to win. But to the WWE Universe's surprise, Roman was able to extend his reign, past WrestleMania as well. Fightful's Sean Ross Sapp, who got the information from a reliable WWE source, confirmed McMahon's non-involvement.
Is Vince McMahon back in WWE?
Back when Vince was in charge, there were no plans for Roman to drop his title. And "much less for Cody Rhodes to win it." It was only after Vince's departure that WWE creative made plans of Rhodes' challenging Reigns. Cody proved to be a worthy challenger to Roman as he quickly became a superhit with the fans.
However, he still lost in the 35-minute classic against Reigns. The win was not clean for Roman as his Bloodline members interfered as usual. Sami Zayn and Kevin Owens tackled The Usos outside the ring but it was Solo Sikoa who became the difference maker. Paul Heyman distracted the referee while Sikoa hit Rhodes with the Samoan Spike and Roman capitalized on it.
There is a feud developing between Solo and Cody on SmackDown. Cody was also the first person to pin him a couple of weeks ago. After his involvement cost Rhodes his big WrestleMania main event match, this rivalry will only intensify going further.