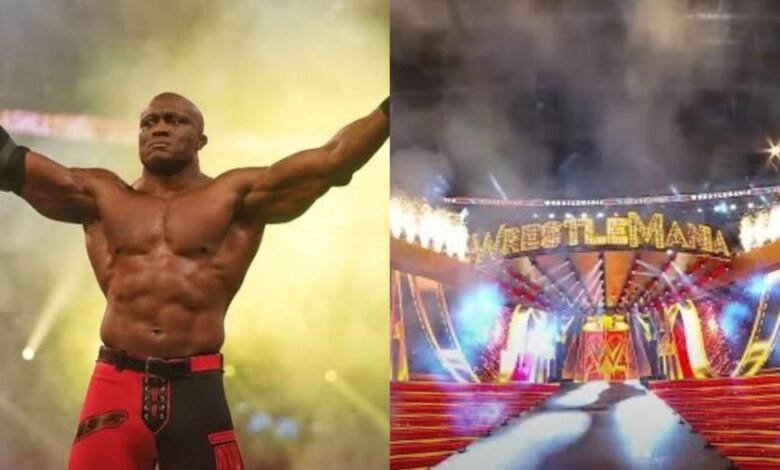 The All Mighty Bobby Lashley may finally be able to compete at WrestleMania 39 as a top YouTuber has just called him out to be his opponent at the grand stage.
Lashley was supposed to go one-on-one with the bizarre Bray Wyatt in this ongoing WrestleMania. But Wyatt had to pull out due to some undisclosed physical issue, leaving Lashley without a WrestleMania match. He had expressed his frustrations regarding this on twitter as well.
During the ongoing WrestleMania, YouTuber KSI made his first WWE appearance during his friend Logan Paul's match against Seth Rollins. He was dressed as the PRIME Hydrate mascot, which he owns with Paul. He revealed his identity towards the end of the match and got a frog splash through the table for his efforts. After the match, Cathy Kelly was interviewing him and she asked him who he would like to face in WWE. KSI replied with Bobby Lashley. He said, "Put me in with the beast. Why not?"
Will KSI be the opponent of Bobby Lashley at WrestleMania 39?
Bobby has himself given his reaction to the video retweeting and writing "Not really what I had in mind for #WrestleMania but if no one else wants to step up… ". Lashley has clarified that he wants to face the YouTuber on WrestleMania 39's Day 2 tomorrow.
Bobby Lashley won the annual Andre the Giant Battle Royal at SmackDown this Friday, when he should have won it at WrestleMania. He is still free on Day 2 of the mega event and has teased holding an open challenge on it. He has tweeted, "I'll say it once again… I AM FREE SATURDAY & SUNDAY!! You can't have #WrestleMania without the All-Mighty. You just can't! Whoever wants to test me, step up!"
So far, we know nothing about any WrestleMania plans involving The All Mighty. As far as KSI stepping up to him, we will have to wait till tomorrow…