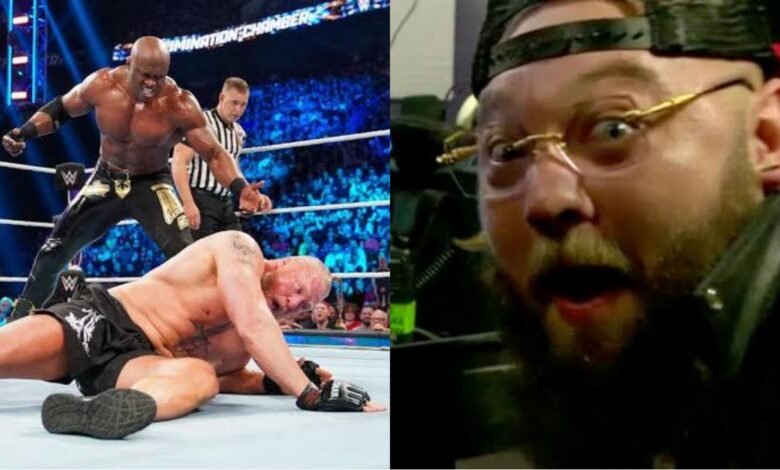 Bray Wyatt teased a new opponent for WrestleMania 39 on SmackDown after putting two top stars on notice before Elimination Chamber. This week he played Bobby Lashley's promo video from RAW edited with goofy Firefly Funhouse graphics complete with kiddish music. This after The Almighty had specifically said he will not be disrespected, triggering speculations of an upcoming feud.
On the go-home episode of SmackDown before Elimination Chamber, Wyatt and Uncle Howdy attacked Hit Row and issued a challenge. Wyatt announced that the winner of the match between Lashley and Brock Lesnar at the Chamber, will be his next target. Lashley won that match via DQ after Lesnar hit a low blow to him with a reverse kick to escape Lashley's Hurt Lock.
Who will be the WrestleMania 39 opponent of Bray Wyatt?
In 2016, Bray Wyatt was poised for a big WrestleMania match with Brock Lesnar.

WWE went with Dean Ambrose instead, which allegedly rubbed Brock Lesnar the wrong way.

Will we get the match we missed out on in 2016 at WrestleMania 39?#SmackDown pic.twitter.com/GcX3zzmIOj

— BODYSLAM.NET (@BodyslamNet) February 18, 2023
At the Firefly Funhouse this week, the words "If I told you a story can you keep a secret?" echoed repeatedly. Bray was watching his own promos backstage and it was here that he played Bobby's aforementioned edited video. It's safe to say that Bobby Lashley is next on the bizarre superstar's list.
Lashley's last opponent Brock Lesnar has a challenger as well. The 7 foot 3 inches giant Omos challenged him to a match on RAW for WrestleMania 39. Although Lesnar has not responded to this challenge yet, he will probably be facing Omos.
WHAT IF Omos vs. Brock Lesnar is a swerve by MVP to get Bobby Lashley to reform the Hurt Business. And considering Bray Wyatt wanted the winner of Brock vs. Bobby, we get a TAG TEAM MATCH at #WrestleMania 39!

Bobby Lashley & Omos vs. Brock Lesnar & Bray Wyatt

— Christian Maracle (@MaracleMan) February 22, 2023
Both these top physical specimens of Lashley and Lesnar won't be facing each other again, but their rivalry was underwhelming. In their trilogy of matches, we never saw a strong finish and no dominant winner.
Both these competitors were the best match for each other being from elite amateur wrestling and mixed martial arts backgrounds. True fans really wanted to see these top tier warriors in an MMA fight. This dream bout doesn't seem to be happening anytime soon. At least not at the upcoming WrestleMania where they already have competitors.