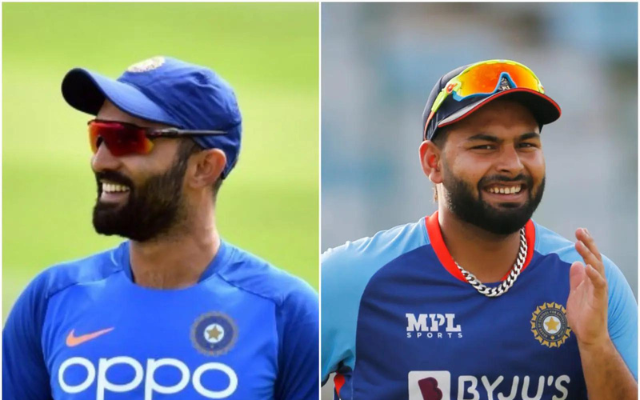 One of the most important decisions that Rahul Dravid and Rohit Sharma have to make ahead of the semi-final match between India and England is the wicketkeeper choice. India has played with both their wicketkeepers in different matches in Super 12, i.e, Rishabh Pant and Dinesh Karthik. Unfortunately, both have been equally disappointing with the bat and thus they have to choose the lesser evil in the semi-final match. However, the importance of this clash is what makes this decision harder than it should be.
Earlier this week, former India coach Ravi Shastri said that he would have gone with Rishabh Pant simply because of the fact that it was his knock in the third ODI between India and England that won the match (and ultimately the series) for the blues. He is a tested player against the English bowlers and thus it would be smarter to select him.
A cricket analyst Saran Bhalerao has stated similar reasons for why he thinks Rishabh Pant should be chosen over Dinesh Karthik. The two points that were laid down by him are as follows:
1. Has a great record v England: hit a ton in the series decider (3rd ODI) v England
2. Will take on Rashid. Short square boundaries at the Adelaide Oval suit Pant's style of batting
He also said that England will probably add an additional bowler to keep Rishabh Pant in check and that would indirectly benefit India as it would also imply that England will play with one Batsman less.
Dinesh Karthik was one of the most effective players in 2021. However his form has dipped again and he is no longer effective as a finisher. He was given a lot of chances to prove himself in the T20 World Cup but he failed to capitalize. It is thus only logical that Rishabh Pant should replace him.
Couple of things that work in Rishabh Pant's favour

1) Has a great record v England: hit a ton in the series decider (3rd ODI) v England

2) Will take on Rashid. Short square boundaries at the Adelaide Oval suits Pant's style of batting

England may add extra bowling option

— Sarang Bhalerao (@bhaleraosarang) November 9, 2022