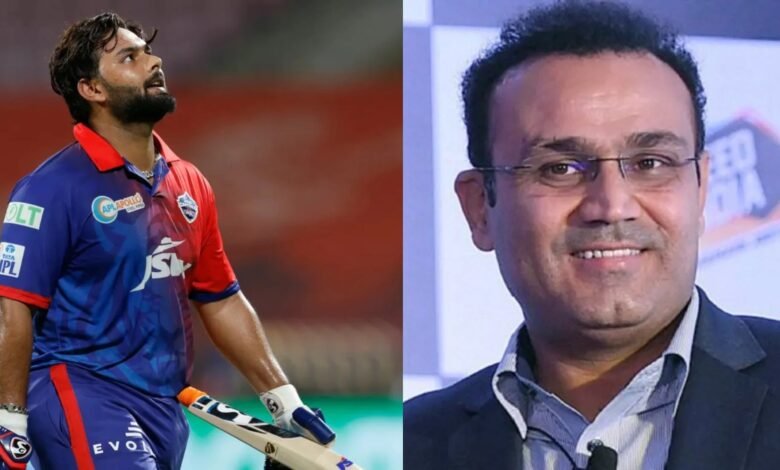 Team India has benefited from a promotion to a middle-order batter in the last few years. While Virender Sehwag was the first example in this era, Rohit Sharma has gone on to also become a great example in this category. Now, Sehwag has reckoned that another current Indian middle-order batter will do better as an opener. In this article, we take a look at Virender Sehwag's opinion about a top-order promotion for a current Indian middle-order mainstay.
Rishabh Pant – Indian middle-order mainstay
Team India has struggled to field a competent middle-order in the last few years in limited-overs cricket. This was the most concerning subplot ahead of the ICC 50-over World Cup in 2019. However, in recent years, this problem is slowly finding a solution. One of the main reasons for this has been the emergence of Rishabh Pant.
India needed players to replace Yuvraj Singh and MS Dhoni in the middle order. Pant has turned out to be a great option, although his style is different. Nevertheless, Pant has cemented his spot in the middle-order and the same is working well for India.
An interesting opinion by Virender Sehwag
Virender Sehwag had a massive transition in his career after Sourav Ganguly promoted him as an opener. Now, Sehwag has said that Pant will perform better as an opener. Speaking on Sports18's show Home of Heroes, the former India opener opined, "Rishabh Pant will be more successful as an opener in limited-overs cricket."
Interestingly, Pant started his career at the U19 level as an opener. He found great success in the role. In one of the recent ODI games in the Rahul Dravid era, Pant even opened in one encounter. He made 18 runs in that game.
Although the proposition looks exciting, it does not look feasible for Team India. There are plenty of good openers coming through and India anyways needs a reliable hand in the middle order. Hence, a promotion for Pant in the batting order looks distant.