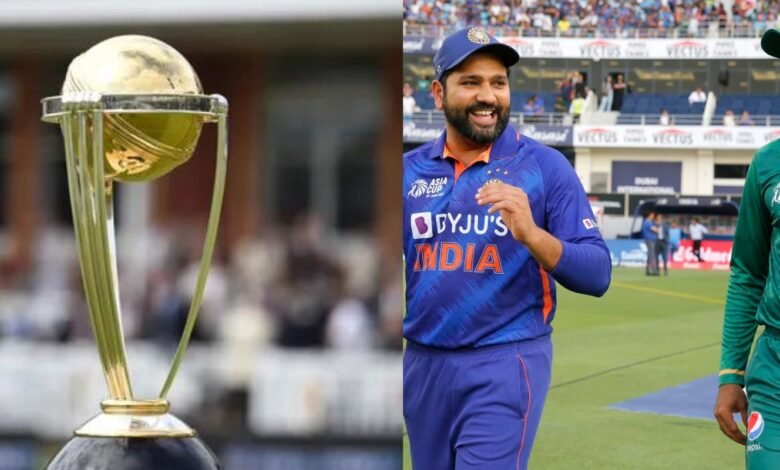 India will host the ODI World Cup later this year. Till now, there has been no official confirmation about the dates and the venues. However, some popular publications have already released their reports. Here, we take a look at how Twitter reacted to India's reported match venues for ODI World Cup 2023.
Reported match venues for ODI World Cup 2023
One of the talking points is that India will not play the first game of the event, despite the country being the host. It is actually a surprising move but we need to wait to see if this would be the official word, as well. India's important games will happen in Chennai at Ahmedabad. While Australia would be the opponent at the Chepauk, it would be Pakistan at Ahmedabad. Also, it is reported that Pakistan would play most of its games in Hyderabad, Bengaluru and Chennai.
BCCI must ensure that it gets the right venues that will play to the strengths of the team. Since most of the overseas players operate in the IPL, it would be hard for the Indians to expect these players to not know much about the conditions. Also in cities such as Mumbai and Bengaluru, runs flow easily and India should not look to play the key games at these venues, although both are high-profile venues. The management must already have a clear idea of where they would play their games. This would help them in preparing the squad to suit the same.
Twitter reacts to the reports
An ICC event in India means that there would be a lot of attention on the event. In this regard, there were a lot of reactions on social media when it came to the reports about the likely venues for the event. We take a look at some of them below:
1. Why 🇮🇳 ain't playing opener as it's host.
2. 🇮🇳 vs 🇦🇺 at Chepauk ? We are doomed already.
3. 🇮🇳 vs 🇵🇰 on Navratri First day 😍
4. Eden not getting SF ? Which one will get another Semi Final ?
5. 🇵🇰 lucky to not play in Lucknow ☠️ https://t.co/pQgTIcpKWF

— Yashraj (@Yashrbh) May 10, 2023
India's 1st wc match in tough Condition against Big team, we have seen this before 👀 https://t.co/enhUHISkQH pic.twitter.com/QzNJIjTQ3y

— Aryan45 🇮🇳 (@Iconic_Rohit) May 10, 2023
Setup beautifully for Babar to score big on his birthday in front of a massive Indian crowd. Bring it on 🔥 https://t.co/lW7dKedz6G

— ViQi (@iamViQiii) May 10, 2023
Pak vs Ind on October 15😯😯😯😯 https://t.co/SyHVFNZJ2r

— ʀͥᴜᴍͣɪͫ😉 (ʀͥɪᴢʙᴀʀ sᴛᴀͣɴͫ)👈😍❤ (@MirzaTariq72) May 10, 2023
Mumbai SF? I will be there no matter what https://t.co/GdGyJejKa8

— VM😄🇦🇷 (@villeneuve_stan) May 10, 2023
India as host should play the first game atleast vs Bangladesh

Ind vs Pakistan should be 3rd -4th group game for both teams

No need to play Australia on Chennai wicket

I already said Pakistan will come to ind irrespective of Asia cup is happening or not #ICCWorldCup2023 https://t.co/83gxg4LqXz

— Vishal (@Fanpointofviews) May 10, 2023
Ahemdabad i am coming on 15th October 🥰💖
Be ready to host me😄😁 https://t.co/vPCV1vBUhV

— Sir Godfather Akatsuki (@_Know_pein) May 10, 2023
2015 WC Opener-NZ(Host) VS SL
2019 WC Opener-ENG(Host) VS SA
2023 WC Opener-ENG VS NZ

Why this partiality?

Opener should be IND VS AUS??@ICC https://t.co/v5CdOoHYHK

— Itzan (@ItzansBoy) May 10, 2023
SF in wankhede giving vibes of Adelaide SF(2015,2022 WC)
Flat fast pitch Short boundaries.

Why would you ruin your own chances by hosting semifinal here? https://t.co/fkFF1FX0Dm

— Risv (@afanofkingg) May 10, 2023