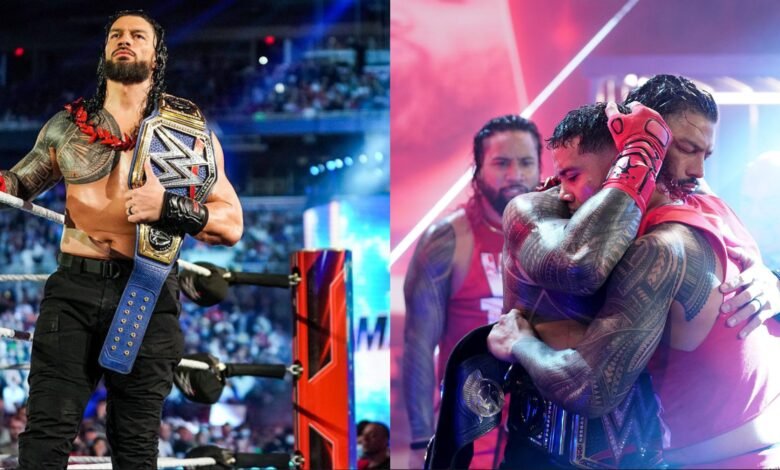 Roman Reigns has risen as perhaps the greatest WWE superstars of all time. The Tribal Chief marches forward with the Undisputed WWE Universal Championship firmly in his grasps. Flanked by his Bloodline, he seems untouchable. Roman Reigns currently holds the record of 800+days as world champion. However, rumors and speculations suggests that his reign might be coming to an end at WrestleMania.
The former Big Dog had a major career resurgence at SummerSlam 2020. Roman Reigns debuted his heel persona and aligned himself with his now special counsel and Wiseman Paul Heyman.
He has decimated superstars such as Finn Balor, Drew McIntyre, John Cena and Brock Lesnar to preserve his title reign. Moreover, he began adding his family members, The Usos, Solo Sikoa and even Sami Zayn to form the powerful faction, The Bloodline. Moreover, Roman Reigns also carved out the longest World championship reign of the modern era.
The Head of the Table also unified the WWE and Universal titles at WrestleMania 38 defeating his long-time nemesis Brock Lesnar. He looks forward to head into next year's WrestleMania as the dominant champion. However, it seems that the time has come for Roman to perhaps lose one of his gold soon.
According to reports, both world titles will be separated before WrestleMania season. Furthermore, Roman Reigns is slated to defend his titles on both Night 1 and 2 of WrestleMania 39 against Cody Rhodes and his cousin, The Rock. Speculations also suggest that Roman might drop one of his title to the Prodigal Son and retain against The People's Champion.
Will The Rock finally comeback for WrestleMania ?
The Rock is heavily rumored to make his grand comeback when WrestleMania takes place under the bright lights of Hollywood. The Rock vs Roman Reigns could perhaps became the greatest WrestleMania main event showdown of all time. However, many fans on Twitter are still questioning if the The Rock's return would happen only to lose to his cousin and ruin his credibility in an attempt to elevate Roman Reigns. They have also expressed their views on what could possibly happen at both nights of the Show of Shows.
Why does everyone think The Rock is returning!?

— Slackboy101 (@SlackDragon101) November 29, 2022
Why do people who HAAAAAAAAAAAATE part time wrestlers want someone who hasn't had a match in like 10 years to beat the longest reigning champion in modern history? I don't even care to see the Rock come back. I get it. But won't really care. It's not like he's Stone Cold.

— Ryan (@The_Maintaur) November 29, 2022
I don't believe this will happen. I think Cody will be vs Roman though.

— Gareth 🏴󠁧󠁢󠁷󠁬󠁳󠁿 (@WWEGareth) November 29, 2022
So he's losing to Cody and retaining against Rock

— Gareth 🏴󠁧󠁢󠁷󠁬󠁳󠁿 (@WWEGareth) November 29, 2022
I'll bet you this doesn't happen. No way they make him lose twice. After 3 years of never losing.

— Junkie 💎 (@wwe_wwf_Junkie) November 29, 2022
This is literally what I've been dreaming would happen. Seth and Cody have to be the two guys to beat Roman for the titles. Cody on Night 1 main event and Seth on Night 2

— Gowrish (@Gowrish62192032) November 29, 2022
No way he's dropping to the rock… maybe they have the MITB at mania and bray or knight cashes in? Cody's winning the other

— Colin Boyle (@ColinBoyle19) November 29, 2022
Rock match isn't even confirmed

— elenora (@Pamaelic) November 29, 2022
Rock will win? But why?

— i dont know (@tushar_eth) November 29, 2022
Bloodline turn on Roman and Rock gets the pin and wins the titles. Obviously has no plans to defend them so vacates them and announces that the WWE title will go to one brand and the Universal to the other. Battle Royal for one and King of the Ring tournament for the other #wwe

— The Republican (@RepOfBritain) November 29, 2022
Imagine building up all this momentum to have him to lose before he ever faces the rock

What a waste of a Dream Match

Not gonna happen
Rock vs an Undefeated,Dual champion Tribal chief is an excuse to print money

— Robert Carnez Harmon (@RobertCarnez) November 30, 2022
Roman should beat Rock on night 1 (if the match happens) but then lose to Cody on night 2

— WWE/NXT (@wweukfanatic) November 30, 2022