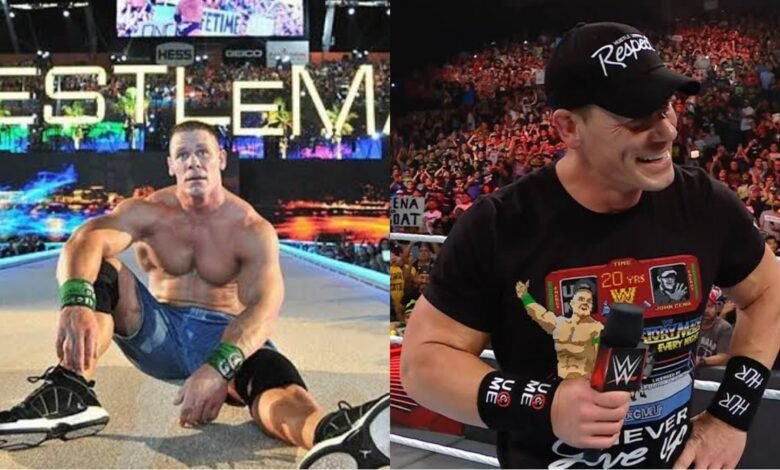 John Cena will make his much-awaited in-ring return at WrestleMania 39. Last night on Monday night RAW, the 16-time WWE World Champion made his return to the company and had a confrontation with the reigning United States Champion, Austin Theory.
With just one segment, Theory and Cena set up their match for WrestleMania 39. The United States Championship will be on the line as John Cena fights for a title on the Grandest Stage of 'em all for the first time since WrestleMania 31.
Cena will have his first match of 2023 on the grand stage in California. Fans had high hopes from WWE when the news broke out that the 16-time world champion would make his return to WWE. However, many fans were disappointed when WWE went ahead with their original plans of Austin Theory vs. John Cena.
The reason behind it is that, despite being pushed in a massive way over the last two years, Theory has not quite achieved the level that he should have. Even John Cena pointed out the same which is why he rejected Theory's offer to fight him at WrestleMania 39. However, after a brief exchange between the duo, Cena accepted.
WWE WrestleMania's official handle informed the fans about the new match with the following tweet:
"THE TIME HAS COME. @_Theory1
defends the
#USTitle
against @JohnCena
at
#WrestleMania
!"
THE TIME HAS COME.@_Theory1 defends the #USTitle against @JohnCena at #WrestleMania! pic.twitter.com/hAntoS1Wke

— WWE WrestleMania (@WrestleMania) March 7, 2023
Twitterati has mixed reactions to WWE announcing John Cena vs Austin Theory for WrestleMania 39
John Cena is considered the Greatest of all Time in WWE history, and having him wrestle for a mid-card at WrestleMania does not make much sense. Even if Cena loses to Austin Theory, it is unlikely to catapult the latter to the main event status because WWE already tried him as a main-eventer once and failed.
Here are some of the best Twitter reactions to WWE's announcement for John Cena:
Why can't WWE give him a worthy opponent

— Sports Lover (@vinay_cricket) March 7, 2023
Will it be too much to ask for a cena win?

— Muzammil Hussain (@muzzi_united) March 7, 2023
Anyone else got a feeling that promo and him mentioning theory ain't ready is gonna lead to this being a bit of a squash to really put Austin over.

— Supremepapi (@itstillhurtsbro) March 7, 2023
Cena taps out. I know it's not the first time he's submitted but imagine the Undertakers streak being ended type heat if he gives up at Wrestlemania

— Andy Hempshall (@HempshallAndy) March 7, 2023
We want Intercontinental Championship match for @JohnCena at #WrestleMania    rather than United States Championship, so that he will complete the #GrandSlam Champion. #JohnCena #USTitle #WrestleMania39 #ICTitle

— Keshavan M (@Keshavan2910) March 7, 2023
Cena v Gunther would be much better.

— Ajay Gopi (@AjayGopi84) March 7, 2023
Bit of a pointless title match because we know cena is not sticking around so result already clear

— Ashley Hings (@AshleyHings) March 7, 2023
The match will be awesome no questions asked but I highly doubt that Cena wins and becomes champion. He has no time to defend the title and Triple H will not have a title that is not present in the shows

— Tom Fricke (@FrickeTom) March 7, 2023
Cena losses to Theory @WrestleMania and that is not a prediction, its a spoiler

— Fejiz (@phejihroh_) March 7, 2023
The passing of the torch begins now. John Cena will lose this match and pass the torch to Austin Theory

Austin Theory will retained his championship against John Cena

— KING SAN (@KINGSAN_385) March 7, 2023