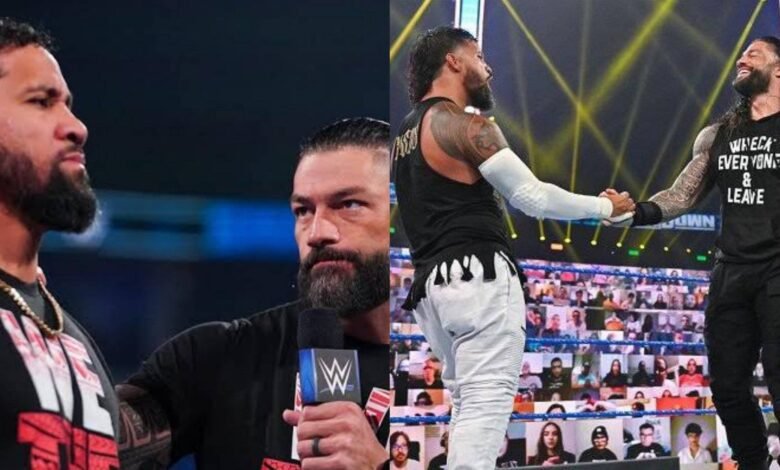 During a recent Twitch stream, former WWE stars Mansoor and Mace took a trip down memory lane, sharing anecdotes from their time in WWE. Amidst their storytelling, Mansoor revealed a heartwarming encounter that shed light on the camaraderie within the WWE roster.
Mansoor couldn't help but gush about Jey Uso, recounting a particularly touching moment. It all unfolded after a long night out with The Usos and other fellow wrestlers. As they made their way back, the tired group found themselves in a car with Jey Uso, who was clearly ready to call it a night. It was the last night of their tour, and with an early 5 AM flight looming, they arrived at their hotel lobby around 3 AM.
From Mansoor & Mace's Twitch Stream Last Night:

Mansoor talks about jokingly confronting Paul Heyman over Ryback's Tweet saying he'd never get over lmaoooooo pic.twitter.com/4Hksp8wxwg

— Patrick The Heel (@patricktheheel) September 22, 2023
In this late-night setting, Jey Uso unexpectedly turned to Mansoor, his words filled with appreciation. "Hey Mansoor, you're one of the best guys here," he complimented. Mansoor, taken aback by the unexpected praise, responded with genuine surprise. Jey continued, "Yeah, you know, when big Uce [Roman Reigns] asks me, 'Who's next, Uce?' I say, 'Hey, Mansoor's next, Uce.'"
Mansoor recently got released by WWE
Mansoor was both moved and flattered by Jey Uso's words. The unanticipated acknowledgment from a respected colleague like Jey Uso was not only heartening but also a testament to the camaraderie and mutual respect shared among WWE superstars beyond the wrestling ring.
Mace and Mansoor also expressed their admiration for Jimmy Uso, noting that the twins, Jimmy and Jey Uso, consistently treated them well. With their combined years of experience in WWE spanning over a decade, the Usos are revered veterans of the wrestling world, known for their professionalism and contributions to the industry.
My time at WWE has come to an end, but my career is just beginning. Thank you all! Excited to get back to work.

Please contact mansoorbooking@gmail.com for all booking inquiries starting Dec 20. pic.twitter.com/8buaGSaR3S

— Mansoor (@suavemansoor) September 21, 2023
As Mace and Mansoor venture into new horizons post-WWE, they will continue to engage with their fans through platforms like Twitch, keeping the spirit of their wrestling journeys alive in the digital realm.