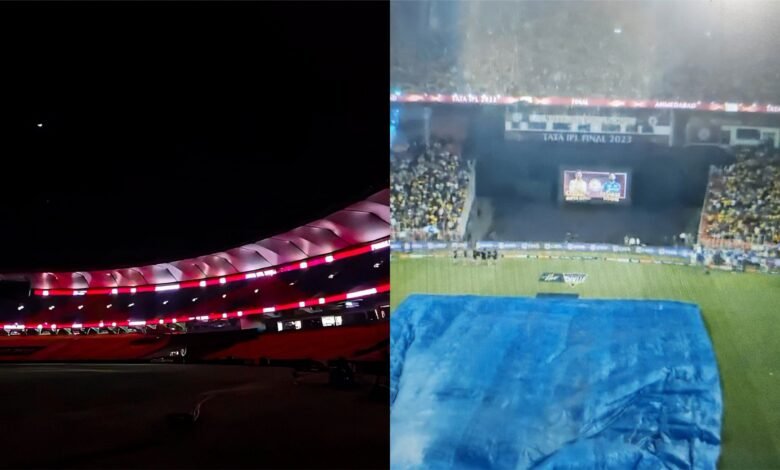 It happened for the first time in the history of the IPL yesterday that the IPL final had to be pushed to the reserve day because of heavy rain in Ahmedabad right through the evening. The umpires tried their best to ensure that the game took place on the scheduled date itself, but the rain was so consistent and heavy that even a 5-over fixture was not possible at the end of the day.
Now that the final has been pushed to the reserve day, the fans are keen to know what's the weather forecast for the reserve day of the IPL final and what happens if the reserve day also suffers the same fate as the actual date of the final.
First of all, the weather forecast of the reserve day looks better in comparison. Not that there is no chance of rain throughout the day. There are showers predicted for the evening, at round about 4-5 pm Indian Standard Time (IST), but for now, the broadcast shows that the rain will pass by the time the match arrives.
A super over is also a possibility on the reserve day of IPL final
However, in case the weather forecast doesn't turn out to be accurate and it rains during the match time again, the umpires would try and arrange a 5-over game if possible. If even a 5-over game is not possible, the next step will be to have both teams playing the super over.
But, if the match gets washed out without a ball being bowled even on the reserve day, then in that scenario the Gujarat Titans will be declared winners, as they finished at the top of the league table with 10 wins and 20 points in 14 games.
Chennai Super Kings, the second finalist, finished at no. 2 in the league table with 17 points in 14 games and they will have to be the runners up of the tournament if the IPL final gets washed out on reserve day too.