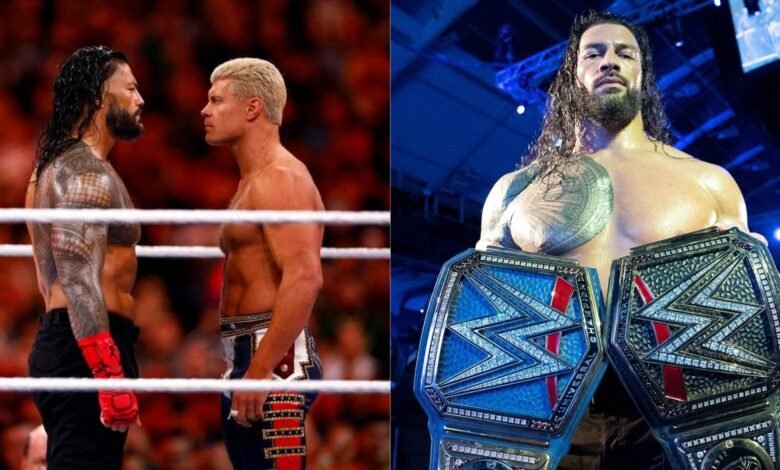 Wrestling veteran and former WWE manager Dutch Mantell has suggested something unique for Roman Reigns and his title reign.  He has presented a scenario where Reigns will drop the championship belt without ever losing and will still look strong.
On the first day of the Draft, SmackDown retained Roman Reigns, Solo Sikoa, and Paul Heyman. This made it clear that Reigns' title reign is not going to end anytime soon. Although WWE has split his two Undisputed titles now, as announced by Triple H last week on RAW, he is still the top champion on SmackDown. Also Roman is yet to taste defeat in 3 years and will soon complete 1000 days as champion.
Happy 2 years to Roman Reigns getting new entrance music pic.twitter.com/YP4zi9tLQB

— 👑𝔸𝕕𝕒𝕞 𝔾𝕠𝕝𝕕𝕓𝕖𝕣𝕘👑 (@AdamGoldberg28) April 29, 2023
Some WWE fans want him to release his chokehold on the world title eventually and Mantell has a solution for them. He suggested a kayfabe injury could help Roman drop the belt while not making him look weak. He said, "Well, I had a thought the other day. What if Roman doesn't ever get beat for his title or titles? He gets hurt, let's just say, and he forfeits the titles, and he becomes the ex-champion by default." (28:44 to 29:23) Dutch also went on to explain that this move will also help him avoid real injuries and still have that aura of invincibility around him.
Will Roman Reigns vs Cody Rhodes happen at WrestleMania 40?
According to Mantell's hypothetical storyline, after Roman relinquishes the title due to injury, Gunther can win it. Then Roman's old nemesis Cody Rhodes can win it from Gunther, thus elevating both of them to top champion level. With Cody as champion, a re-match of the WrestleMania 39 main event, Roman vs Cody, can happen at WrestleMania 40 again.
Since it seems to be a topic today, if you were in charge, where would you book the rematch for Roman Reigns v Cody Rhodes…

SummerSlam 2023 or WrestleMania 40?

Anything past SummerSlam would be a hell of a risk IMO… pic.twitter.com/mYUEG4TT6Y

— Wrestle Ops (@WrestleOps) April 28, 2023
He said, "And that would give my boy Gunther; he can get the title, then Cody can get it from him, thus elevating Cody a little more and then bringing Roman back into the fold… I think they advance Gunther, they advance Cody, and this is probably the next WrestleMania. They can go at it again." (29:22 to 29:57)
Roman has not shown up on TV for the last few weeks. He was absent during the first day of the Draft too.