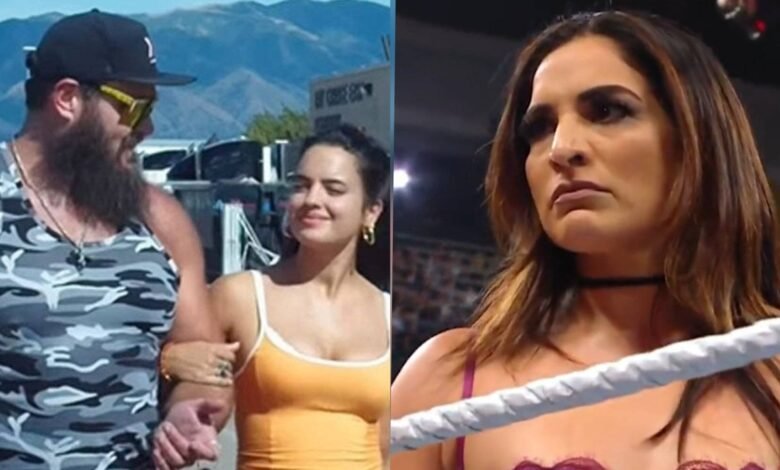 It seems like former WWE Universal Champion Braun Strowman has already moved on from his relationship with Raquel Rodriguez. The WWE male star was spotted hanging out with another woman in a video that has now gone viral on social media platforms.
A few hours ago, news broke out about Raquel Rodriguez and Braun Strowman splitting up with each other. The two former lovers have unfollowed each other on social media. They have also deleted pictures with each other on their accounts. Some fans mentioned that the two WWE Superstars ended their relationship in 2022 itself, but there is no official confirmation regarding the same.
While the date of the breakup is unclear, the news of their split seems to be true because Braun Strowman appeared in a video with the caption that read, "When your girl drives."
In this video, Strowman can be seen having a great time with Nina Daniele, who is a popular Instagram influencer, with more than 1 million followers on the platform. You can watch the video here:
Braun Strowman seems to have moved on from Raquel Rodriguez. He was spotted with Instagram influencer Nina Daniele in this fun video with the caption 'When Your Girl Drives'.https://t.co/RTrrNBmlbU

— Wrestle Tracker (@wrestletracker1) August 22, 2023
Braun Strowman and Raquel Rodriguez received a lot of love from the WWE Universe
Although Braun and Raquel have broken up now, they were one of the most loved WWE couples during their time together. In fact, their posts received a lot of engagement whenever they shared pictures together on social media.
They even attended WWE Superstar Alexa Bliss' wedding together. However, not all WWE relationships have lasted long. The duo of Braun and Raquel has joined the long list of former WWE Couples who called it a day on their relationships despite being among the most-loved pairs in the company.
Braun Strowman and Raquel Rodriguez have also deleted photos with each other#WWE #SmackDown pic.twitter.com/sAAxQa2b4U

— Wrestle Tracker (@wrestletracker1) August 21, 2023
While Braun seems to have moved on now, Raquel Rodriguez is yet to make a move. She has not posted pictures or romantic captions with any other male star. She is single right now.