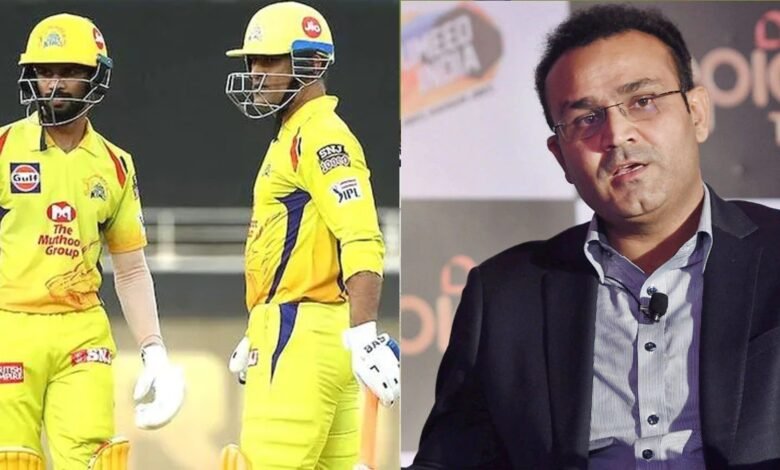 The former Indian opener Virender Sehwag is of the view that Ruturaj Gaikwad should be the next captain of CSK whenever MS Dhoni decides to relinquish the captaincy of CSK again.
Dhoni had relinquished the captaincy to Ravindra Jadeja ahead of the start of the ongoing IPL season, but CSK couldn't achieve great success under Jadeja in the first 8 games and the captaincy was switched from Jadeja to MS Dhoni back again.
According to Virender Sehwag, who was speaking as a pundit on Cricbuzz, Jadeja might not be in the reckoning to be the CSK captain again and in that case, they should consider Ruturaj Gaikwad, because Gaikwad has the experience of captaining in domestic cricket. He is the captain of Maharashtra, whenever he is available to play domestic cricket.
Ruturaj Gaikwad has got the demeanor of a captain: Virender Sehwag
Secondly, in the opinion of Virender Sehwag, Ruturaj Gaikwad has also got the demeanor of a captain and he seems unflappable in his own performances. There is not too much difference in his body language when he is going through a bad run of form or a purple patch with the bat. He just looks the same. So, he has the ability to handle himself and the team.
It remains to be seen what MS Dhoni and the CSK management, including the owner of the franchise, decide in terms of captaincy now. If Dhoni plays one more season, it's very likely that he will lead CSK himself and Ruturaj will get the reins when Dhoni retires.
With the way the Ravindra Jadeja saga has unfolded, the CSK management will be very careful in terms of picking the next captain now, because whoever becomes the new captain after Dhoni's retirement, CSK would want him to remain captain for the long term and be in charge of the team like Dhoni was for a decade.