IPL
IPL 2022
News
Uncategorized
"Virat Kohli wouldn't have made as many mistakes in his whole IPL career as he made during this IPL," says Virender Sehwag
Virat Kohli batted at a strike rate of only 115 and averaged less than 30 with the bat in IPL 2022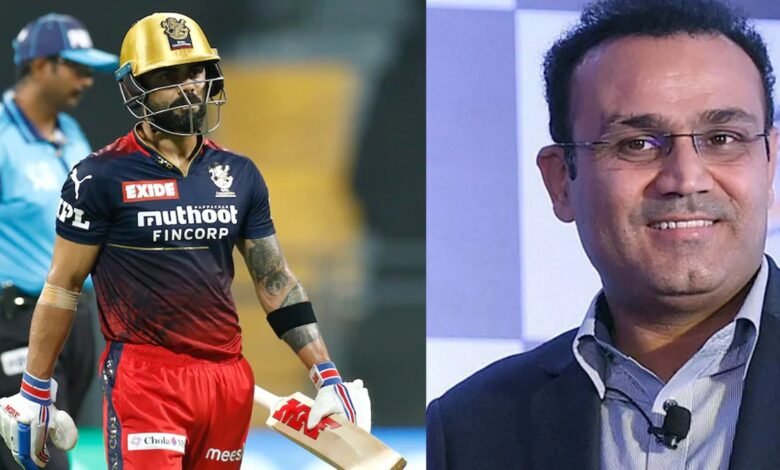 The former Indian batsman Virender Sehwag reckons Virat Kohli wouldn't have made as many mistakes in his whole IPL career as he made during one single IPL season this year. Kohli failed to deliver for RCB once again yesterday as he was dismissed by the Rajasthan Royals pacer Prasidh Krishna in the second over of qualifier 2 at the score of 7.
It was a good delivery by Prasidh, but it was so far away from Kohli that he could have left it for the keeper if he wanted to. But, Kohli had a poke at the delivery which was not just seaming away but was bouncing quite a bit as well, and eventually, the outside edge of Kohli's bat was taken which was held by Sanju Samson behind the stumps.
Lack of form inducing mistakes from Virat Kohli: Virender Sehwag
Virender Sehwag was analyzing the game in the Cricbuzz studio and he said when a player is out of form, he has this urge of feeling the ball on the bat early on in his innings and that's what Virat Kohli wanted as well, to feel the ball on the bat.
But, if he had to go after that delivery, he needed to flash hard at it so even if the edge was taken, it would have gone over the keeper and the slip cordon. But, Kohli didn't even flash hard, he just poked at the ball and the outside edge carried the ball at a nice, comfortable height to the keeper.
According to Sehwag, if Kohli was not out of form, he would have perhaps gone hard at the ball or would have left the ball altogether, but when a batsman is not in form, that's where the indecision and doubts creep in and that's what has happened regularly with Kohli this season.
It's because of the lack of form and indecision that Kohli has made plenty of mistakes, more than any other IPL season ever.