Uncategorized
"I have been cropped out of Ravi Shastri's life," Nasser Hussain jokes about twitter post of Ravi Shastri on Blue Day
The Blue Day was celebrated on the second day of Edgbaston test match in the memory of Bob Willis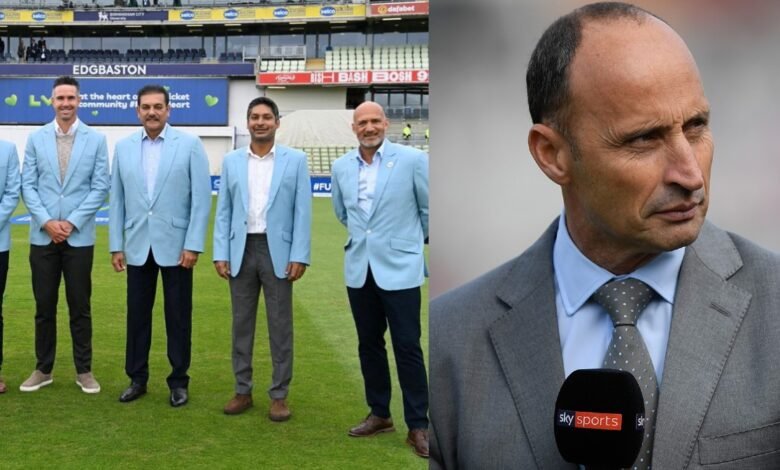 The former England captain Nasser Hussain and the former Indian head coach Ravi Shastri have had a few issues in the past. However, it's all well between the two now, as they are commentating together for Sky Sports.
Recently, when Blue Day was celebrated on the second day of the ongoing India Vs England Edgbaston test match in the memory of the former England fast bowler Bob Willis, there was a picture taken of all the commentators.
However, the picture that Ravi Shastri uploaded on his Twitter account didn't feature Nasser Hussain in it. Nasser was cropped out of the picture, while the original picture that was tweeted by another Sky commentator Ian Ward had Nasser featuring in it.
Nasser Hussain jokingly brought this up on air and said that Shastri doesn't seem to have moved on from their past controversy even though he said he has moved on. Nasser further added, amid a round of laughter in the commentary box, that he has been "cropped out of Ravi Shastri's life".
"I've just been cropped out of Ravi Shastri's life, cancelled!" 😪💔

Ravi (or was it? 👀) broke Nasser's heart 🤣👇#ENGvIND pic.twitter.com/gAzr8TP7b6

— Sky Sports Cricket (@SkyCricket) July 3, 2022
Kevin Pietersen cropped Nasser Hussain's picture, not me: Ravi Shastri
When Ravi Shastri got on the air for his commentary stint, he revealed the true story and said that it was actually the former England batsman Kevin Pietersen who was behind that picture cropping. Shastri said that Pietersen sent him the picture of Blue Day with Nasser cropped out of it and after he uploaded the picture on his Twitter account, Pietersen asked him "Where is Nasser"?
It was such a funny segment on the broadcast that all the commentators were laughing, particularly Pietersen who knew that it was him who had cropped the picture and not Shastri.
Nasser Hussain also jokingly said that he is featuring on Ian Ward's Twitter account who has got like "4 followers" and not on Ravi Shastri's Twitter account who has got 3.5 million followers.