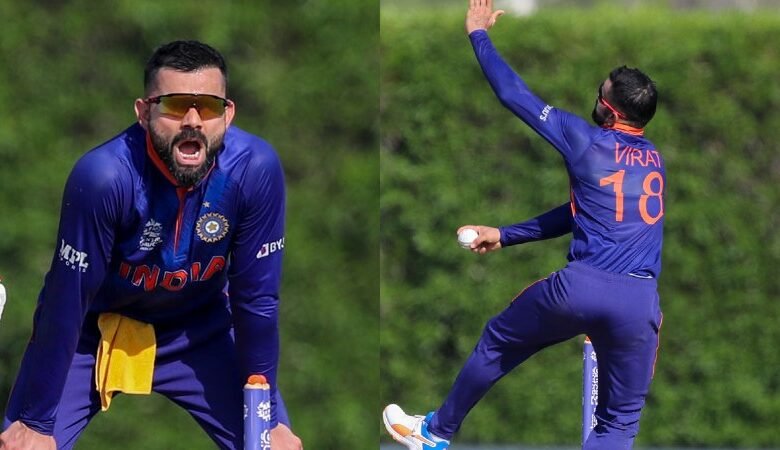 The Indian captain Virat Kohli surprisingly rolled his arm over in the second warm-up match ahead of the T20 World Cup against Australia and that sent Twitter into a frenzy.
People really enjoyed the fact that Virat Kohli was bowling after such a long while and to many people's surprise, he bowled two economical overs against two of the dangerous players, Steve Smith and Glenn Maxwell.
It was actually the Indian vice-captain Rohit Sharma who came out for the toss today and he said at the time of the toss that India might try some part-time bowlers today including himself and the permanent captain Kohli.
And as Rohit said, he brought Kohli into the attack after the powerplay overs to bowl his military medium pace. Although Kohli was bowling after a long gap, he seemed to get his areas right straight away and the batters found it hard to get under the ball to play the lofted shots.
Virat Kohli used to describe himself as a "quick bowler" during his U19 days
When Virat Kohli was the U19 captain of India, he used to bowl quite a bit, and he used to describe himself as the right arm "quick bowler" at that time. So, when he came on to bowl today, Twitter users cracked some jokes on that.
The reason why India has had to try the part-timers ahead of the T20 World Cup is that their premier all-rounder Hardik Pandya is not bowling yet and because of the fact that he is not bowling, India wants some options in case the 6th bowler is needed during games of super 12 round.
Virat Kohli was the only part-timer India tried today. The part-timers would actually not be bowling during the super 12 games if there isn't an absolute desperate need. Because India will go into all the games with 5 bowlers anyway, most of the time, they will look to complete the quotas of those 5 bowlers, rather than looking for a 6th bowler. However, if the need arises, they want their part-timers ready.
Here are some of the interesting tweets which surfaced when Virat Kohli came on to bowl in the warm-up game against Australia today –
Virat Kohli just went for 4 runs in his first over. pic.twitter.com/v6RIGSmYNM

— Johns. (@CricCrazyJohns) October 20, 2021
20th October 2010 – Steve Smith Bowling to Virat Kohli

20th October 2021 – Virat Kohli bowling to Steve Smith pic.twitter.com/2rK62y3Hrp

— Pari (@BluntIndianGal) October 20, 2021
1. Sitting out himself so that an extra batsman could get a chance to play.

2. Coming in to bowl as the 6th bowling option, just what the team needed.

Virat Kohli – The perfect team man. 🙌 pic.twitter.com/NLvZ7NPNuX

— Harsh(old id s worded) (@VintageVirat) October 20, 2021
Virat Kohli bowling under Rohit Sharma captaincy.

Wow. How Delightful this is. 😍🥰

— The Cricketist (@dCricketist) October 20, 2021
Virat Kohli bowling to Steve Smith is once in a lifetime moment btw for cricket fans.

— Ammar (@ammar__one18) October 20, 2021
Virat Kohli Bowling !!

Looks like if Pandya is not bowling, Virat will play as 6th bowling option 🧐🧐#AUSvsIND pic.twitter.com/dRyZxWJZgq

— Karthick Shivaraman (STAY SAFE😷) (@iskarthi_) October 20, 2021
World is not ready to witness Virat Kohli- the right arm quick bowler to unleash his powers and get wickets

— Monika (@Lostt_Soulll) October 20, 2021
This over made me realise that Kohli is the greatest right arm quick bowler

— I S H A N ¹⁸  (@Kohlify_18) October 20, 2021
Rohit Sharma – " Hardik Pandya isn't Bowling much. It will still take time. Me, Virat ,Surya will all Bowl & see who can chip in for the 6th Bowling option"

So "the right arm quick" Virat Kohli & Rohit having a IPL hatrick will be our 6th bowler#INDvAUS#ViratKohli#RohitSharma

— Shoronjeet Banerjee (@shoronjeet02) October 20, 2021