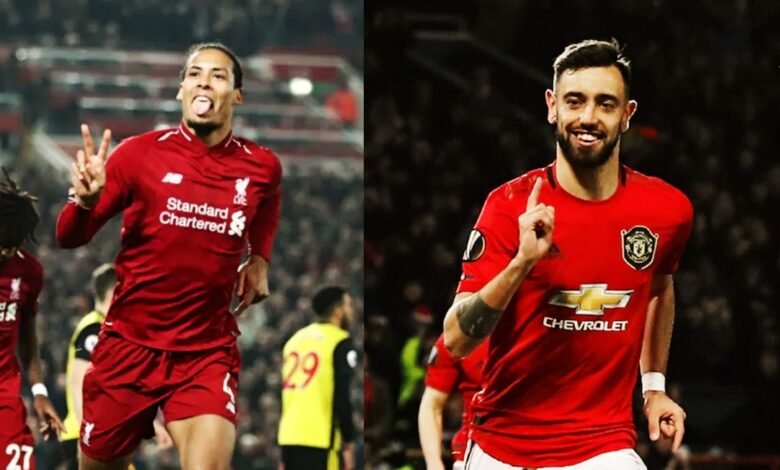 The January transfer window is commonly regarded as a much tougher time to sign players compared to summer. The reason being that both clubs and players are unsure regarding their status in the middle of a season and hence flop signings have become the norm in January. Instances of clubs making transformative signings in January are extremely rare. In this article, we will take a look at five of the best winter signings by Premier League clubs.
Honorable mentions :-  Patrice Evra, Gary Cahill, Seamus Coleman
#5 Bruno Fernandes
Manchester United began the 2019/20 season well, but they were nowhere near good enough to challenge for the title. They were lacking a credible playmaker, and hence they decided to sign Bruno Fernandes from Sporting CP. He was in supreme form for Sporting during the 18/19 campaign and scored 33 goals in all competitions.
United had scouted him for a long time and finally announced his arrival on January 29, 2020. He made an instant impact in United colors, scoring 12 goals in 22 appearances during the rest of 20/21 season. Overall, he has scored 47 goals and assisted 36 times for the Red Devils in 108 appearances.
#4 Nemanja Vidic
The Serbian centre-back is definitely among the greatest Premier League defenders of all time. Vidic started his career at Red Star Belgrade in 1999 and became a Spartak Moscow player in 2004. He moved to Manchester United on January 5, 2006 for a fee of £9.45m. Soon, he became an integral member of the starting lineup and formed a formidable defensive partnership with Rio Ferdinand.
During his spell at United, Vidic was named as the Premier League player of the season two times. His warrior like approach to the game earned him admirers across Europe.
#3 Luis Suarez
Among the many prominent winter signings made by the Premier League, Suarez's name stands out for two main reasons. The first one being the fact that he was not even Liverpool's most expensive signing of the 2011 January window. In a single month, Liverpool paid £23.85m for Suarez but doubled the amount for the services of Andy Carroll.
Carroll turned out to be a huge flop, while Suarez went on to break several long-standing PL records. In the 2013/14 season, Suarez scored 31 non-penalty goals and registered 12 assists, truly astonishing numbers. Liverpool made a £50.00m profit on his transfer when he moved to Barcelona in the summer of 2014.
#2 Philippe Coutinho
The tiny Brazilian dominated the Premier League throughout his five year spell at Liverpool. He was sold to Liverpool for a fee of £11.70m by Inter Milan in January 2013. Coutinho enjoyed a lot of success as a playmaker, particularly under Brendan Rodgers. He made 201 appearances for Liverpool, scoring 54 goals and registering 45 assists.
Coutinho's reputation only increased with every season at Anfield, but he was eager to play in Spain. In January 2018, Barcelona broke the bank to buy Coutinho for £121.50m. Ever since the move to Spain, Coutinho has not played anywhere close to his best. A loan move to Villa might just serve as a tonic to revive a flailing career.
#1 Virgil Van Dijk
Topping the list of best winter signings made by Premier League clubs is the Dutch skipper Virgil Van Dijk. He arrived at Anfield in January 2018 for a fee of £76.19m, a world record amount for a defender. Van Dijk played in every single PL game of 2018/19 and 19/20 seasons, establishing himself as the best center-back in the world.
The Dutchman's impact at Liverpool was clearly seen during Liverpool's title defense in 2020/21. An ACL tear ended Van Dijk's season and Liverpool became a disjointed unit without their talisman. He has since recovered from the injury and is now very close to playing at his best.