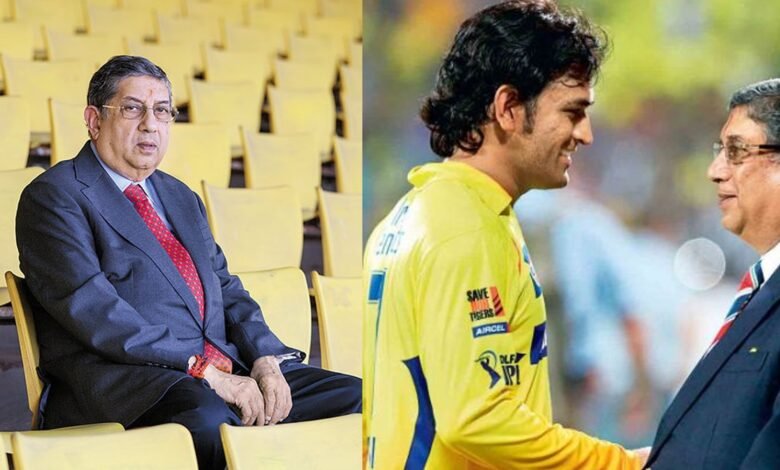 CSK owner N Srinivasan has said that there is no CSK without MS Dhoni, and there is no Dhoni without CSK. Srinivasan said that in response to a question asked him whether Dhoni would remain at CSK next year or not.
CSK won their 4th IPL title last Friday under the captaincy of MS Dhoni, but once the tournament finished, a lot of questions surfaced again if Dhoni would continue playing for CSK, or he would hang his boots.
The reason behind these questions is the fact that there is a mega auction coming up and ahead of that, the franchises will be allowed to retain only 2 or 3 of their players. So, it naturally makes people ask if Dhoni is one of those players CSK should think about retaining, or they should retain players who can serve the franchise for the next 3-4 years.
Srinivasan hinted that Dhoni would remain associated with CSK, but on the question of retention, he said the retention policy has not been announced by the BCCI yet.
MS Dhoni has also stressed the point that there are uncertainties regarding retention at this stage
MS Dhoni himself has also reiterated the point that any decision on the retention of players can be taken only after BCCI announces how many players they would allow the franchises to retain. Before that, everything about retention is uncertain.
Srinivasan was at Lord Venkateswara temple yesterday with his daughter Rupa Gurunath, where he performed a ritual with the IPL trophy. The India Cements managing director then took a few questions from the reporters present there.
"Dhoni is part and parcel of CSK, Chennai and Tamil Nadu. There is no CSK without Dhoni and there is no Dhoni without CSK," Srinivasan said while addressing the reporters.
Srinivasan also revealed that CSK will celebrate their 4th title triumph once the skipper MS Dhoni returns from the UAE where he is currently working with the Indian cricket team as a mentor.