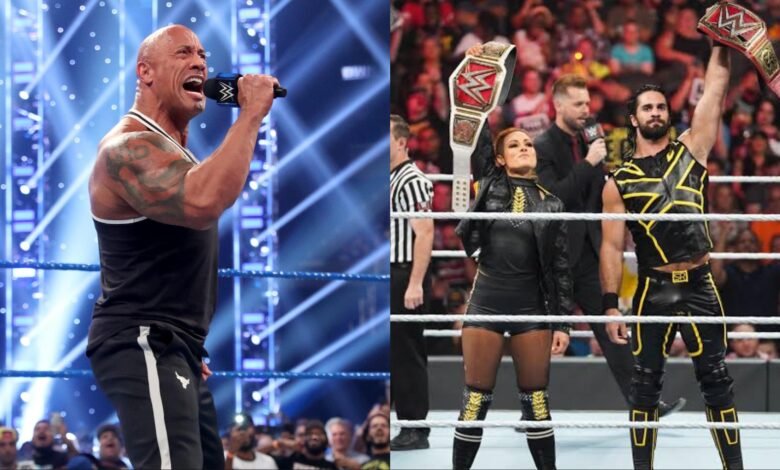 Former WWE writer Brian Gewirtz who is close to many WWE superstars, has recently launched his book There's Just One Problem… and is promoting the same. In a recent Instagram Live session with couple Seth Rollins and Becky Lynch, all three seemed to be having fun chatting away, when Gewirtz took notice that the Great One, the Rock, himself had commented about WrestleMania 39 during the live. He had hilariously commented "ROCK & BRIAN VS SETH & BECKY AT MANIA! BOOK THAT SH*T!"
Becky Lynch who was taken aback by the comment responded with "I'm down! I'm down!"
The Rock commenting on Becky Lynch & Seth Rollins / Brian Gewirtz IG Live

"ROCK & BRIAN VS SETH & BECKY AT MANIA! BOOK THAT SHIT!" pic.twitter.com/X5yPcsBIpT

— 𝐒𝐚𝐮𝐥 𝐁𝐚𝐝𝐦𝐚𝐧 (@THENEXTBlGTHlNG) August 16, 2022
The Great One has always had a great sense of humor but him commenting shows that he is still interested in a match in the future even though this could be a parody of a match even if it happens in a parallel universe.
Will The Rock wrestle at WWE WrestleMania 39?
Rumors have been doing the rounds that the Rock will go one on one with his cousin Roman Reigns at Wrestlemania 39. Whether it will be for Reigns' Undisputed titles or even if the match is actually going to happen isn't sure. Nothing is official at this point and everything is up to the Rock's busy Hollywood schedule.
The Tribal Chief has been the most dominant champion in recent times with an impressive title reign of over 700 days. Even beating The Beast incarnate Brock Lesnar at the Wrestlemania 38 spectacle and going through whatever competition WWE had to offer.
The Rock on when The Shield triple powerbombed him and Roman and Seth's reaction to it 😂 pic.twitter.com/LAWIDjcF9D

— 𝐒𝐚𝐮𝐥 𝐁𝐚𝐝𝐦𝐚𝐧 (@THENEXTBlGTHlNG) August 16, 2022
Therefore there is now a scarcity of fresh challengers for the Big Dog, which is why the management is going after that Big Match for the show of shows and nobody is bigger than the Brahma Bull.
Even renowned wrestling journalist Dave Meltzer has commented on this speculation:
"It's the plan. It's 100 percent the plan for this year. But the idea is, it's the plan if he can do it. We're still months away, months and months away. So many opportunities and things like that may come up that are far more important than WrestleMania." 
This match will easily be a treat for all fans. Fingers crossed as always…