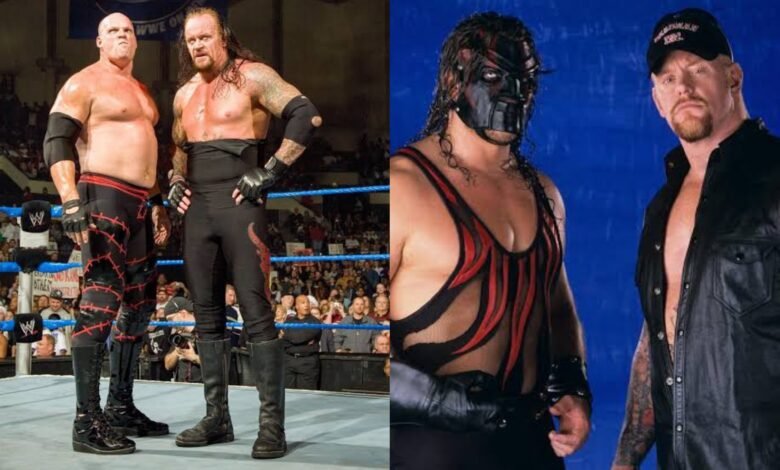 When we were kids, there have been a lot of rumors that were being passed in the WWE ring. From believing the fact that Undertaker was actually a phenom to Kane's mask being really attached to his flesh, there have been countless incidents where we chose to believe things that simply didn't exist. One similar rumor that did heavy rounds during those days was that Undertaker and Kane were brothers in real life.
Obviously, they were the Brothers of Destruction as the WWE storyline would preach us that they were half-brothers but then again in real life, they were just two individuals who were very closely connected with each other. But then again, internet was hard to come by back then and we would probably believe, everything that we heard from our friends.
Undertaker's real name is Mark Calloway while Kane's real name is Glenn Jacobs. The duo almost was of similar heights, similar physical features and had a common stint alongside Paul Bearer, thereby making us believe in the childhood that they were related in real life.
The Undertaker does have siblings in real life, however, who are David, Michael, Paul and Timothy (died aged 63 in March 2020). However, none of them wanted to take him to the red hell or bury him alive. (We hope you are getting the irony please)
Other than trying to drag each other through fires and thunderbolts, through light and dark, the duo also teamed up together and laid absolute waste to the WWE locker room with almost no one to spare and the partnership between the two were known as the Brothers of Destruction, towering at almost 7 feet.
Here is what Twitter had to say about Undertaker and Kane not being real life brothers
Twitter lit up in a meme fest to celebrate the fact that they had the realization late enough to know that duo weren't brothers in real life and yet dictated halfway through our adolescence.
kane taking his mask off scarred me for life

— Quae 🚶🏾( check bio ) (@eauqq) March 18, 2023
Like y u had to mention that???? I didn't know till now pic.twitter.com/jydOe582V5

— AC Rich (@HeNotRich) March 18, 2023
The genius of 90s WWF/E story writing is unparalleled

— Sas (@sas_o07) March 19, 2023
Undertaker is my brother !

— Kane (@NFTKAP) March 18, 2023
The attitude era had to be the purest form of entertainment ever 🔥 the characters, matches, storylines, the video games ALL FIRE 🔥

— Perré Aye 🧑🏼‍🦱 (@Perre_Aye) March 18, 2023
I'll never forget the time Kofi Kingston lied about being Jamaican

— dexter (@psychthecreator) March 18, 2023
biggest lie in the history of mankind

— 👑 (@FormulaVol3) March 18, 2023