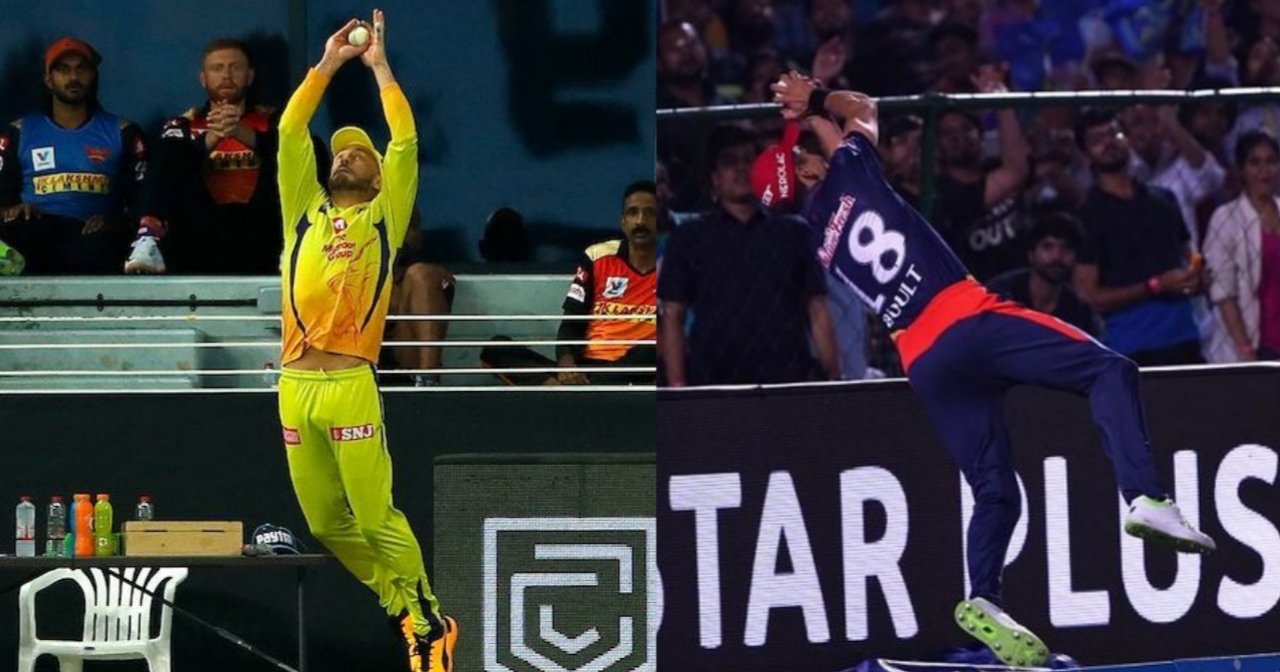 T20 is a format wherein games can be determined within the spread of few runs. Although batting and bowling are impactful areas, fielding can never be discredited. While fielding can be decisive in tight encounters, if someone has a good performance in the park, it can boost the team as a whole. In this article, we take a look at the all-time best fielder XI in IPL History.
It takes a strict fitness regime to be able to good on the field. Concentration is a key factor, and sometimes, understanding the game situation is also essential. This is why we see good fielders repeating their exceptional displays in every season.
Openers: Faf du Plessis and Shikhar Dhawan
Everyone coming from South Africa is usually good in this department. They are quick, aware and could sometimes pull off outstanding moves. Faf du Plessis has a good record of making catches look easy. He averages around 0.65 catches per innings so far in the IPL.
While he may not look like someone who is acrobatic, Dhawan is actually an efficient fielder. In 179 games so far, he has taken 80 catches, which is a terrific achievement. Hence, he is part of this best fielder XI in IPL history.
Middle-Order: Suresh Raina, Virat Kohli (C), AB de Villiers (WK) and Manish Pandey
Suresh Raina is the best fielder that IPL has seen till now. He averages around 0.52 catches every innings and has so far accumulated 16 run-outs. Be it the slip-cordon or the long-on, long-off regions, Raina is unstoppable as a fielder.
Virat Kohli is also one of the best catchers in the tournament. He has a good technique and a commendable set of reflexes. Although there are better keepers than him, with and without the gloves. ABD is still a top fielder. While he has been behind the stumps in recent seasons, his past work in the outfield cannot be forgotten.
Off-late, Manish Pandey is proving to be one of the best fielders on the globe. He is extremely fit and hardly misses any chances when the ball goes up in the air.
All-Rounders: Ravindra Jadeja and Kieron Pollard
Ravindra Jadeja is arguably the best fielder in the league. There have been games where his fielding effort alone has turned the tide. His stats also speak highly of his abilities. In his IPL career so far, Jaddu has taken 70 catches and completed 22 run-outs. While he is still a little away from the top position in the list of maximum catch-taker, the CSK man has the most run-outs to his name in IPL so far.
There is hardly anything that can go past the 'V' if the ball is in Kieron Pollard's range. While the timing he exhibits with his jumps is from the top draw, he is also a good diver. Hence, the West Indian is part of the best fielder XI in IPL history.
Bowlers: Rashid Khan and Trent Boult
Although Rashid Khan and Trent Boult have played lesser games than the others, they are currently one of the best fielders in the league. Like Dhawan, Rashid does not look like an acrobatic man but is very efficient with his act and hardly drops any catches. He is also very committed on the boundary and tries to save runs every time.
Likewise, Kiwi pacer Trent Boult is an exceptional fielder. We have seen him take some unbelievable catches in the fine-leg region. Even while he is bowling, the left-arm pacer exhibits quick reflexes to take anything that comes his way.
12th Man: Dwayne Bravo
Dwayne Bravo is one of the glamorous fielders in the game. Usually patrolling the long-on and long-off region, the West Indian has taken some memorable catches in the IPL. He has also executed 13 run-outs so far in his IPL career.