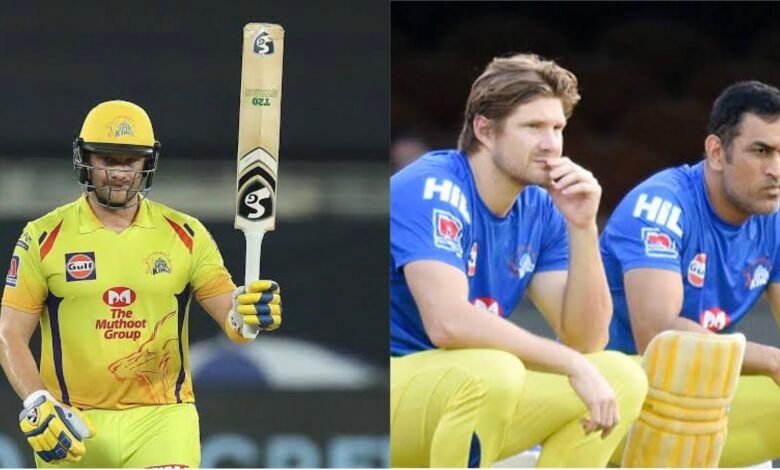 Former Chennai Super Kings (CSK) all-rounder Shane Watson picked his favourites in the Indian Premier League (IPL). The Australian player has picked the GOAT of the league, his favourite moment, the greatest all-rounder, an underrated player and the next big thing in the league.
Shane Watson picks his favourites in IPL 
Shane Watson arguably has been one of the best all-rounders to have played in the IPL. He contributed equally with both bat and ball and won two IPL titles with two different teams in the leagues. In both the title win, he played a significant role and helped the side to win.
Shane Watson, who played for Rajasthan Royals, Royal Challengers Bangalore and Chennai Super Kings played 145 games in the IPL and in those, he scored 3874 runs to go with 4 hundreds and 21 centuries. Not only this, but he also bagged 92 wickets in the league at an economy of 7.93
Recently in an interaction at Jio cinema, he was asked to pick a few things. The all-rounder first named MS Dhoni as the Goat of the IPL. He was then asked to pick his favourite moment in the IPL and he didn't shy away from picking winning the tournament with Rajasthan Royals in the inaugural edition of the league.
Shane Watson picks his favorite in IPL [JioCinema]:

GOAT – Dhoni
Favourite knock – 2018 IPL final hundred
Favourite moment – Winning 2008 IPL
GOAT all rounder – Russell
Underrated Player – Suresh Raina
Next big name – Cameron Green

— Johns. (@CricCrazyJohns) May 17, 2023
He was also asked to name the greatest all-rounder in the league. Shane Watson however wasted no time and picked Andre Russell. For the most underrated player, he picked his former Chennai Super Kings teammate Suresh Raina.
Shane Watson was also asked to pick his favourite knock in the league. The all-rounder picked his 2018 final hundred against SRH. He then was finally asked to pick the next big thing in IPL. He picked Cameron Green as the next superstar in the league.
Shane Watson's favourite in the IPL 
Here are the favourites of Shane Watson in the IPL.
GOAT – Dhoni
Favourite knock – 2018 IPL final hundred
Favourite moment – Winning 2008 IPL 
GOAT all rounder – Russell
Underrated Player – Suresh Raina
Next big name – Cameron Green