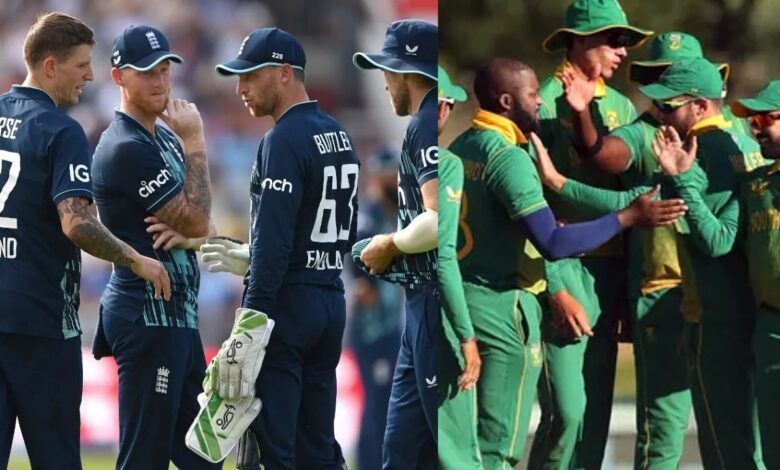 While SA20 is in full flow, South Africa and England would clash for a three-match ODI series. During this period, the SA20 will be put on hold. The games would happen on January 27th, 29th and February 1st. The first two matches would happen at Bloemfontein. Here, we look at the pitch report of Mangaung Oval and the weather conditions in Bloemfontein for SA vs ENG 2023.
It is high time for South Africa to perform well against quality opposition. The tour of Australia was a difficult one for them. That said, at home, they have always been good and will be the favourites to win the series. However, England is the World Champion and even if they do not have some of their regular members, they would still be dangerous because of the depth of talent in the nation.
Mangaung Oval, Bloemfontein pitch report for SA vs ENG 2023
Strike a pose and say cheese 😆#SAvENG #BePartOfIt pic.twitter.com/St4GHFXO70

— Proteas Men (@ProteasMenCSA) January 25, 2023
It was way back in 1992 that this venue hosted its first ODI game. That said, since 2020, there has not been a single ODI game here. Since the main stadiums are occupied for SA20, this stadium will host the first two games of this series.
In the 30 games, the teams batting second have won 15 games, while the side batting first has ended on the winning side in 13 encounters. The average score batting first here is 242, which proves that we can expect an equal game between the bat and the ball.
Bloemfontein weather conditions for SA vs ENG 2023
It's a record that's as close as can be 🏏

The #Proteas take on England in a 3-match Betway ODI Series from 27 January – 1 February in Bloemfontein and Kimberley 💪

Grab your ticket here 🎟️ https://t.co/op0CjweIP0#SAvENG #BePartOfIt pic.twitter.com/fNI4hvahD4

— Proteas Men (@ProteasMenCSA) January 25, 2023
On the two match days, we can expect the temperatures to range between 31 and 15 degrees Celsius. The humidity is predicted to be around 49%.
While a sunny day is expected for the second game, there is a slight chance of rainfall for the first game on Friday. However, it may be for a brief period and is unlikely to affect the proceedings.