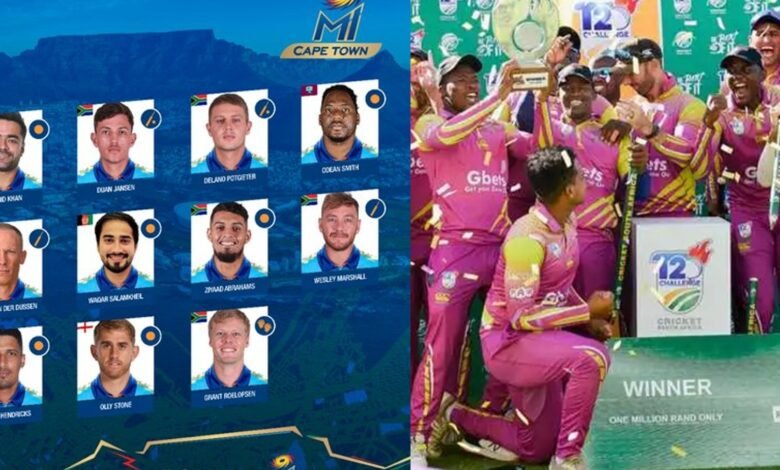 The South Africa T20 League is all set to kick start on 10th January with the final of the league set to be played on February 11 in Johannesburg. However, there'll be a bit of interruption midway from 25th January to 11th February as Proteas national team will be hosting England for three ODIs.
Mumbai Indians Cape Town set to kick start the SA T20 league with Paarl Royals on 10th January 
The SA T20 league will see 6 teams competing in the 33 matches in the tournament. The six clubs in the league are MI Cape Town, Durban Super Giants, Johannesburg Super Kings, Paarl Royals, Pretoria Capitals, and Sunrisers Eastern Cape.
All the teams will play against each other twice in a home and away format. Mumbai Indians Cape Town will kick start the tournament with a clash against Paarl Royals in Cape Town. And fans will likely be in for an exciting contest throughout the tournament.
Here is your first-ever #MICapeTown squad for the upcoming #SA20 season 💙

The #OneFamily is ready to rock 👊😎#OneFamily #MICapeTown #SA20Auction @SA20_League pic.twitter.com/FY2RkFXy5r

— MI Cape Town (@MICapeTown) September 19, 2022
Graeme Smith, the SA20 league commissioner, also talked about the league and said that. "Fans will be able to watch the best local and international T20 stars live in action at prime viewing times for the afternoon and evening matches. This is also an ideal broadcasting slot, ensuring viewers around the world can also keep up with the enthralling entertainment." 
Full schedule of the SA T20 League 
Here's full schedule of the upcoming SA T20 League:
| | | | |
| --- | --- | --- | --- |
| Date | Matches | Time (SA Time) | Venue |
| Jan 10 | MICT vs PR | 5:30 PM | Cape Town |
| Jan 11 | DSG vs JSK | 5:30 PM | Durban |
| Jan 12 | SEC vs PC | 5:30 PM | Gqeberha |
| Jan 13 | PR vs JSK | 1:30 PM | Paarl |
| Jan 13 | MICT vs DSG | 5:30 PM | Cape Town |
| Jan 14 | PC vs SEC | 1:30 PM | Pretoria |
| Jan 14 | MICT vs JSK | 5:30 PM | Cape Town |
| Jan 15 | DSG vs PR | 1:30 PM | Durban |
| Jan 16 | SEC vs MICT | 5:30 PM | Gqeberha |
| Jan 17 | PR vs DSG | 1:30 PM | Paarl |
| Jan 17 | JSK vs PC | 5:30 PM | Johannesburg |
| Jan 18 | MICT vs SEC | 1:30 PM | Cape Town |
| Jan 18 | PC vs JSK | 5:30 PM | Pretoria |
| Jan 19 | PR vs SEC | 5:30 PM | Paarl |
| Jan 20 | DSG vs PC | 5:30 PM | Durban |
| Jan 21 | PR vs MICT | 1:30 PM | Paarl |
| Jan 21 | SEC vs JSK | 5:30 PM | Gqeberha |
| Jan 22 | PR vs PC | 1:30 PM | Paarl |
| Jan 22 | SEC vs JSK | 5:30 PM | Gqeberha |
| Jan 23 | MICT vs PC | 5:30 PM | Cape Town |
| Jan 24 | SEC vs PR | 1:30 PM | Gqeberha |
| Jan 24 | JSK vs DSG | 5:30 PM | Johannesburg |
| Feb 2 | DSG vs MICT | 5:30 PM | Durban |
| Feb 3 | JSK vs PR | 1:30 PM | Johannesburg |
| Feb 3 | DSG vs SEC | 5:30 PM | Durban |
| Feb 4 | PC vs MICT | 5:30 PM | Pretoria |
| Feb 5 | JSK vs SEC | 1:30 PM | Johannesburg |
| Feb 5 | PC vs DSG | 5:30 PM | Pretoria |
| Feb 6 | JSK vs MICT | 5:30 PM | Johannesburg |
| Feb 7 | PC vs PR | 5:30 PM | Pretoria |
| Feb 8 | SF1 (1st vs 4th) | 5:30 PM | Johannesburg |
| Feb 9 | SF2 (2nd vs 3rd) | 5:30 PM | Pretoria |
| Feb 10 | Reserve day/Prep for Final | | |
| Feb 11 | FINAL | 4:30 PM | Johannesburg |