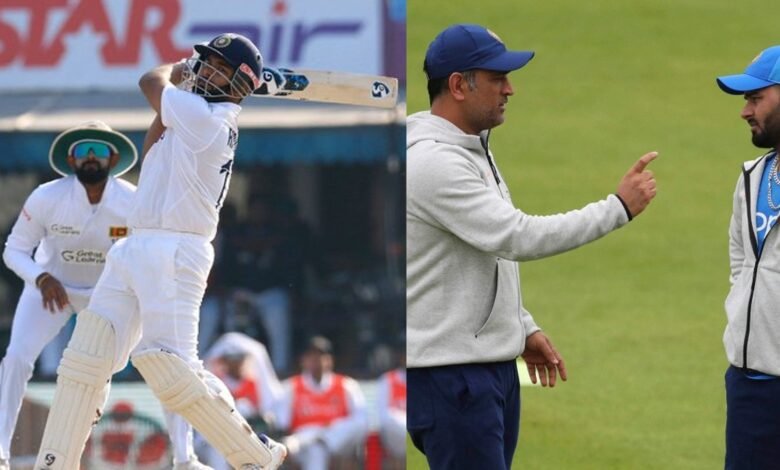 Rishabh Pant has played only 48 innings in his test career so far and has already scored hundreds in England, Australia, South Africa and India, but what's also remarkable about Pant's test career is the number of hundreds that he has actually missed.
Out of the 48 test innings that Rishabh Pant has played, he has got out in the 90s as many as five times and today in the first test against Sri Lanka was another such occasion where he could have got to another three-figure mark, but he couldn't.
Pant has now equaled the former Indian captain, MS Dhoni, in terms of getting out in the score of 90s. Dhoni, like Pant, also got dismissed 5 times between the score of 90 and 100, but he played 144 test innings in his career. Pant, at the moment, has played only one-third of the no. of test innings Dhoni played and has still got out in the 90s five times.
Most 90s by wicket keeper in Test history:

5 Pant
5 Dhoni

— Broken Cricket (@BrokenCricket) March 4, 2022
The game was evenly poised when Rishabh Pant came out to bat today
When Rishabh Pant came out to bat today on day 1 of the first test against Sri Lanka, the game was evenly poised, as Sri Lanka had just got the wicket of Virat Kohli and was trying to get into the game on a surface where there was a little bit of spin on the first day itself.
Pant took his time initially and played the ball on its merit for the first couple of hours, accumulating runs whenever the scoring opportunity presented itself, but once he got his eye in, the left-hander went absolutely ballistic and took the attack to the Sri Lankan bowlers, particularly the spinners.
The Sri Lankan medium pacer Suranga Lakmal was able to dismiss Pant with the second new ball, but the Indian wicketkeeper had done significant damage before that with the score of 96 off just 97 balls. India finished the day at 357 for 6, with Ravindra Jadeja unbeaten at the crease at the score of 45.