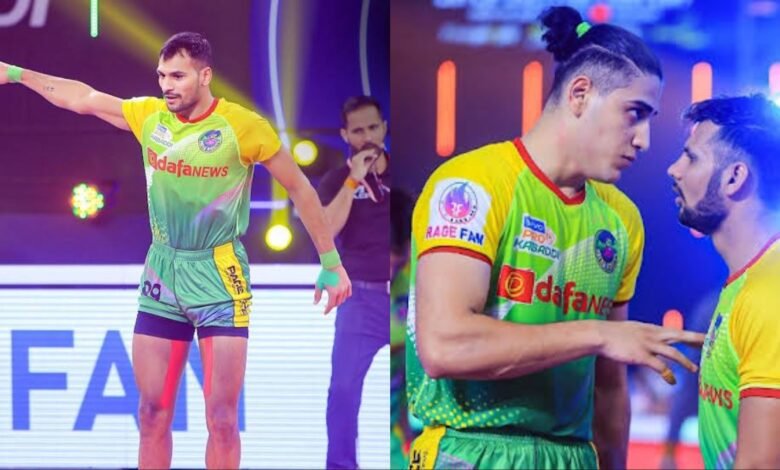 The latest season of the Pro Kabaddi League will be upon us in three months from now and Patna Pirates would be hoping to bring similar form to the tournament like the way they have done previously.
Despite a late start in the preceding season, they got back on their foot and surged towards the finish line with pomp and vigour, eventually finishing the group stages at the top of the pecking order with a staggering 86 points that starred 16 wins from 22 matches, 5 defeats and a tie.
Here is what the possible starting VII for Patna Pirates may look like
Patna Pirates were ready for this 𝘚𝘢𝘤𝘩 𝘬𝘢 𝘴𝘢𝘢𝘮𝘯𝘢 😉

The Pirate is ready to hunt opponents at will once again 🏴‍☠️#vivoProKabaddi @PatnaPirates pic.twitter.com/R6q5yrh399

— ProKabaddi (@ProKabaddi) August 18, 2022
They registered a score difference of 120, a figure that no other team could parallel or even come close to. Despite the snub of lady luck in the dying embers of the tournament, their group stage dominion was overwhelming and the closest contender who could even imagine of challenging the throne were the eventual champions Dabang Delhi.
However, the latest edition of the auction had a few surprises in store as they let go of their captain, Prasanth Kumar Rai. Going by the reports and the possible circumstances, the captaincy may be header to the reliable hands of Rohit Gulia.
#PiratePanti ✖️ 2️⃣
Excitement ✖️ ♾️#vivoProKabaddi @PatnaPirates pic.twitter.com/7Ii70sFV0Q

— ProKabaddi (@ProKabaddi) August 16, 2022
Guman Singh, who made his presence felt in the preceding edition of the tournament would also be missing from the ranks as he joined the likes of U Mumba. However, Ravi Shetty, the coach of the Pirates chose to bring in a handful of interesting new players who can change the dynamics in a heartbeat.
The raiding trio of Monu, Sachin Tanwar and Rohit Gulia can be an asset to any given team in the league and the kind of experience that Sachin, Rohit and Goyat brings to the table, it can be absolutely game-changing.
Chiyaneh's presence in the left corner, rained 89 tackle points in the preceding season and the experience that he earned will go a long way in getting him some serious heat for the following season. Let's have a look at the possible starting VII of Patna Pirates:
Raiders: Sachin Tanwar (Right In), Rohit Gulia (Left In), Monu (Center).
Defenders: Sunil Narwal (Right Corner), Mohammadreza Chiyaneh (Left Corner), Neeraj Kumar (Right Cover), Sajin C (Left Cover)