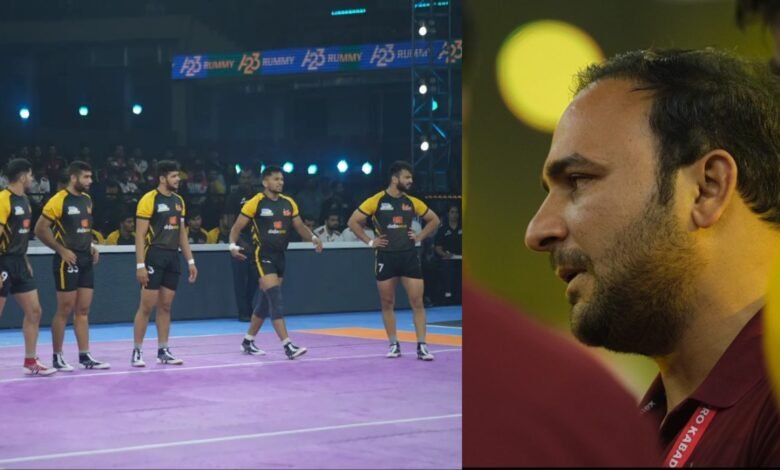 Despite having one of the strongest squads in Pro Kabaddi League 2022, the Telugu Titans find themselves in the last position on the points table. They have top-quality raiders like Abhishek Singh, Siddharth Desai, Monu Goyat, Ankit Beniwal and Rajnish Dalal. Their defense features big names like Ravinder Pahal, Vishal Bhardwaj, Parvesh Bhainswal and Surjeet Singh.
Some fans thought that the Titans have the best team anyone can assemble. Yet somehow, they have failed to click as a unit thus far in PKL 2022. The youngsters of the team have outshone the senior pros.
In the Bengaluru leg of PKL 2022, the Titans recorded only one win in seven matches. They still have 15 matches left, which is enough to turn things around and make it to the playoffs. However, the Titans will have to make the following three changes to ensure they remain alive in the race to the Top 6.
1. Telugu Titans should play with same playing 7 for at least 3 to 4 matches
Mana Youngest Defender Mohit Pahal.#vivoProKabaddi #TeluguTitans #IdiAataKaaduVetaa #WeRiseAgain #Kabaddi #KabaddiIndia #MohitPahal pic.twitter.com/YvD4l4Gotl

— Telugu Titans (@Telugu_Titans) October 27, 2022
A big mistake made by the Titans was to bench the seniors just after a couple of bad performances. It was too early to swap the seniors with the youngsters.
However, it is not too late now, and the Titans should focus on playing with the same team for at least three to four matches. This will give security to the players and also it will allow them to play like a unit.
2. Telugu Titans should stick with 1 captain
Mana Pahal-wan. 🔥💪🏻 #vivoProkabaddi #TeluguTitans #IdiAataKaaduVetaa #TitanSquad #WeRiseAgain #Kabaddi #RavinderPahal #KabaddiIndia pic.twitter.com/wLmKRI1YLI

— Telugu Titans (@Telugu_Titans) October 21, 2022
The Titans have already tried out different players as captains in PKL 2022. If Ravinder Pahal is fit and available to play, he should only lead the team. Too many changes have hurt the team a lot, and if the Titans stick with one leader, it will be better for the players.
3. Not to use too many substitutions in raiding
Telugu Titans are second last on the list of teams with the most successful raids in PKL 2022 so far. The Titans retained their top two raiders from last season – Rajnish Dalal and Ankit Beniwal. However, both have not received enough chances. Even Siddharth Desai has started as a substitute in a few games, while Abhishek Singh has been struggling with an ankle injury.
In the break between Bengaluru and Pune legs, the Titans should identify their best four raiders, who should play in starting seven and substitutes. Using too many raiders just impacts the confidence of others negatively. Siddharth Desai, Rajnish, Ankit and Monu Goyat should be the ideal group, with Abhishek Singh joining in once he recovers.