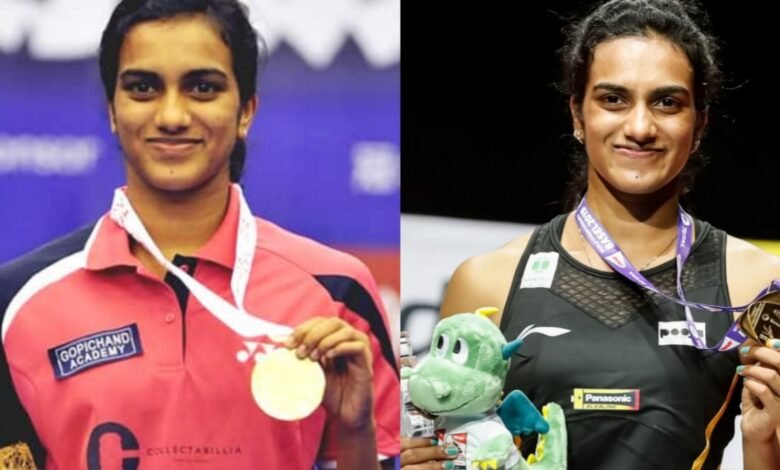 As PV Sindhu surged past Mia Blichfeldt in the pre-quarterfinals match of Olympics Women's Singles in Badminton, the Indian hopes have already started flying high. It was a comprehensive victory for Sindhu as she chronicled scores of 21-15 in the first set and 21-13 in the second to brush aside the challenge from the Dane.
She aced Group J with two victories, the first one coming against Israel's Ksenia Polikarpova with scores of 21-7 and 21-10, while her second victory against Cheung Ngan Yi ensured that she won the group and secure the pre-quarterfinal berth against Mia Blichfeldt of Denmark who had also registered convenient victories in the group stage against the likes of Hsuan-Yu Wendy Chen and Linda Zetchiri to make it to the round of 16.
The quarterfinal clash between Sindhu and Akane Yamaguchi will be happening at 1:15 pm tomorrow. This match will be extremely crucial for the Indian shuttler who is the current silver medalist in Olympics, belting out a sumptuous showdown in 2016.
As hopes fly high, we will take a quick look at Pusarla Venkata Sindhu's Gold-winning performances throughout her glittering career.
1. Gold Medal in Women's Singles, Commonwealth Youth Games in Isle of Man, 2011
Sindhu started with a bye in the round of 64 to be pitted against Laura Beggs in the round of 32. The shuttler from the Isle of Man couldn't offer any resistance at all as she was thumped by 21-2 and 21-3, with Sindhu making merry.
Her next round clash was against Wang-Ting Tsai of Canada that saw a brilliant turnaround from Sindhu to stay alive in the fray. She went down in the opening set of the game by 15-21 but was absolutely humdinger in the following two sets with scores of 21-13 and 21-8 to emerge victorious.
Sindhu's next opponent was Tara Pilven from Australia, and it was an easy victory for the Indian as she secured her semi-final berth against her, comfortably winning both the opening sets of the game.
She didn't cop much resistance in the semi-final either, as she comprehensively won her respective game, making a meal of Malaysia's Li Yang.
Another Malaysian waited for her in the final as Sonia Cheah fought with teeth on teeth against Sindhu and finally bowed out in the opening set with scores of 22-20. However, the second set took out all her sting and Sindhu emerged victorious by 21-5, bagging her first international gold in life.
2. Gold Medal in Women's Singles, Asian Junior Championship in South Korea, 2012
Sindhu was given a bye in the opening round of the tournament to fix a clash against Young Seo Ryu of South Korea. This didn't look like a stiff challenge at all for the Indian shuttler as she registered scores of 21-11 and 21-13 in two straight sets to eliminate Ryu.
In the round of 16, she was up against Rina Andrani of Indonesia, which was ensured by an intense fight in the second set to leave the crowd and Sindhu hanging from the edge of her seat. The first set was comfortably won by Sindhu with a 21-10 margin, but the second set witnessed her digging deep as the scoreline read 21-19 in her favour.
The quarter-finals drafted the first emphatic challenge for PV Sindhu as she was pitted against Sun Yu of China. This was an exciting battle of nerves and wits as the Indian shuttler barely won through the skin of her teeth with scores of 22-20 and 21-19 in the two sets.
Another vertiginous odd awaited the young Indian, as this time her opponent was current number 13 in the world, Busanan Ongbamrungphan. Another thrilling contest was up for grabs as Sindhu brushed aside the Thai shuttler comprehensively with the scoreline 21-19 and 21-16 in her favour.
Her final hurdle was against the current World number three Nozomi Okuhara, and she started belting out class right from the word go. Sindhu staged an extraordinary turnaround, going down in the first set by 18-21 to grab the next two sets by 21-17 and 22-20 to secure the prized gold.
3. Gold Medal in Women's Singles, BWF World Championship in Switzerland, 2019
The Indian women contingent had two of their most promising stars featuring in the World Championship. PV Sindhu and Saina Nehwal won their respective second rounds comfortably. Sindhu came up trumps against Pai Yu Po and Saina defeated Soraya De Visch Eijbergen.
Sadly, the second round proved to be heartbreak for Indians as Saina crashed out to Mia Blichfeldt who was Sindhu's opponent today. PV Sindhu however, won another comfortable victory against Beiwen Zhang.
Sindhu's quarter-finals seemed to bring out the best in the Indian woman, as she roared back to life in the second and the third set against Tai Tzu Ying to bag her semi-final spot.
Her bout in the semis didn't last for long, as she comprehensively blew away Chen Yu-Fei by a scoreline of 21-7 and 21-14.
It was another pompous showdown against Nozomi Okuhara in the grand finale of the tournament to become the first Indian shuttler in badminton history to bag a gold medal.