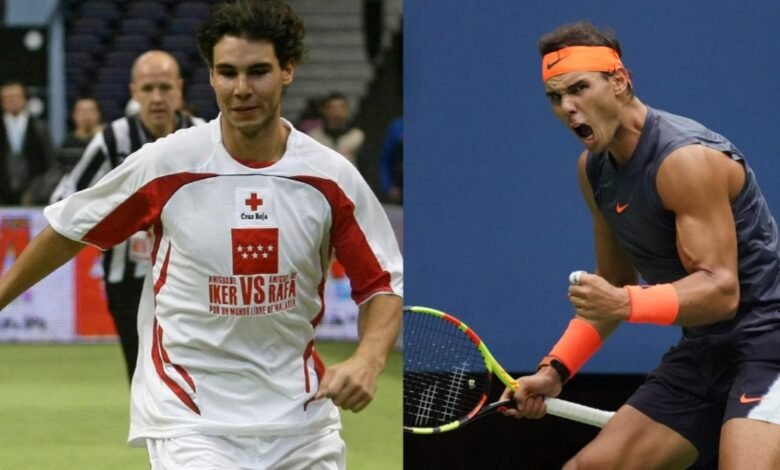 Deemed as a tennis God, Rafael Nadal has been ruling the courts for an unimaginable amount of time now and he is still going strong despite the sound of rattling elbows and knees. Born on June 3rd, 1986, he has manifested a career so titanic in lawn tennis that it is still a dream for the majority of the game's aspirants.
Currently ranked 3rd by ATP, Nadal continues his pursuit of excellence in the ongoing French Open. He crashed A Popyrin in the first round while smashing R Gasquet in the second. He will be up against C Norrie in the third round of the fray.
In this story, we will be celebrating the rise of the man from the very ashes through five rare known facts about the King of Clay.
1. Rafael Nadal is naturally right-handed
One of the most iconic southpaws of the court, Nadal is actually a right-hander in every other facet of his life. It was at an early age that his uncle and preceptor, Toni Nadal realized that he was striking two-handed forehands on both sides. It was later discovered that he could actually smack a very strong right-handed backhand and with some further experimentation, it was found out that he is a left-handed player.
2. He chose tennis over football
Those who believe that he was disciplined in just a solitary sport, he actually excelled in both soccer and tennis at a young age. Given the fact that his uncle, Toni Nadal actually played for Barcelona and RCD Mallorca, football came naturally to him. At the age of 12 years, he was at a juncture where he was faced with the option of either choosing football or tennis and he chose the latter. Imagine what a loss would have been to the tennis world if he would have chosen football. Maybe, we would have been tuning into for a lucrative transfer of some "Rafael Nadal" from Barcelona to Juventus, maybe.
3. Nadal beat a Grand Slam champion before he was just 15 years old
He riveted the attention of the world as he was successful in crashing the former Grand Slam winner, Pat Cash. He smashed the 1987 Wimbledon winner with an exotic display of aggression on the court. Though Pat was retired, yet he continued taking part in various events around the globe and Nadal trounced him in a friendly extravaganza.
4. He is an extraordinarily superstitious person
While you are expecting players at such a high level to be absolutely picture-perfect, believe me, they are humans too and the most human aspect of them is superstition. Nadal is highly superstitious and one of his predominant practices is lining up his water bottles before and during the match. Between every change-over, he ensures that he is personally lining them up and placing them in the right way it must be.
5. The reason behind his title of "The King of clay"
People believe that it is his success on the clay court that actually gets him the title. However, it is just partially correct. His triumphs on clay include 13 French Open, 11 Monte Carlo Masters and 11 Barcelona titles. He is an exceptionally fast player that suits him the most on clay and a belligerent behind-the-baseline game with excessive topspin makes him a menace to face on the clay. These aspects of his game make him the King of Clay.