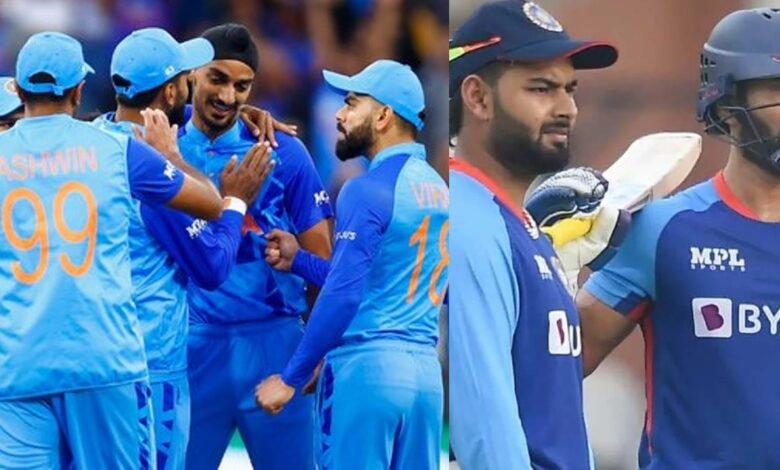 India might have won their first game in the ongoing 2022 T20 World Cup against Pakistan, but it was a very close game and the Indian team management would know very well that there are some areas of concern that need to be looked at.
India seemed to have decided before the Pakistan game that their first-choice wicketkeeper would be Dinesh Karthik. Karthik was not picked specifically for his wicketkeeping skills, he was rather picked more for his fishing skills with the bat. But when the opportunity came for Karthik yesterday to finish the innings for India with just 2 needed off 2 balls, he couldn't get the job done.
That can be overlooked as a one-off because finishing is not an easy job in T20 cricket. However, the fact of the matter is that Karthik has very strong competition in the squad and that is Rishabh Pant who has played some remarkable knocks in Australia, although in different formats of the game. Also, Pant is a left-hander and against bowling attacks that don't rely on an off-spinner and rather rely on a slow left-arm bowler or a leg spinner, left handers are required in the middle order.
India's next game in the 2022 T20 World Cup is against the Netherlands
Yesterday since India didn't have a left-hander in the top 6 against Pakistan, they had to promote Axar Patel up the order, who got run out without scoring a lot of runs, his promotion was largely to do with the fact that Pakistan bowling attack had a slow left-arm bowler and a leg spinner.
Get Pant instead of Karthik

— desi mojito 🇮🇳 (@desimojito) October 23, 2022
If India plays with Rishabh Pant in the XI, rather than Dinesh Karthik, they will have two left-handers in the top 7 and they will then have a bit more variety in the batting line-up to counter a different kind of bowlers.
The next match that India has to play in the 2022 T20 World Cup is against Netherlands and Netherlands also has a left-arm spinner and a leg spinner in their attack, which means India might seriously give it a thought to make a change in their playing XI for the next game and play Rishabh Pant ahead of Dinesh Karthik.