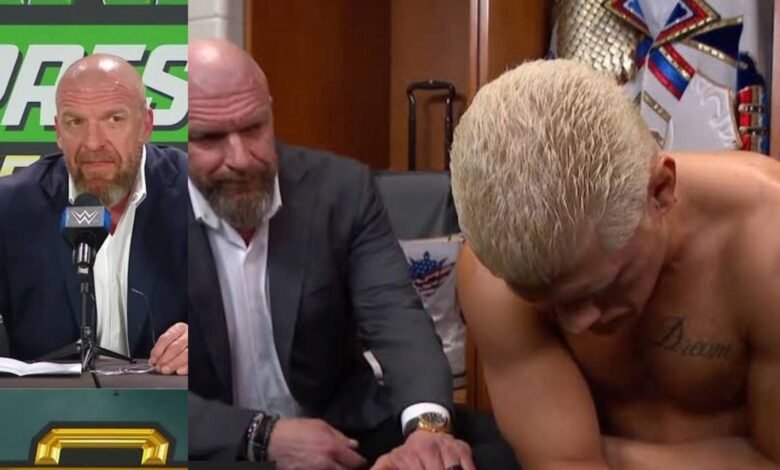 They say that Triple H has made a wave of changes to the WWE creative team ever since he has taken over and the changes are evident. The entire WWE Universe loves how WWE has gone about their business and the current storylines are nothing short of wondrous. From the Bloodline implosion to The Judgment Day teetering along on the fringes of another implosion, the crowd has been absolutely loving it.
Not only has Triple H restored the WWE storylines to its former fame but somehow, he has managed to get entire shows after shows housefull and that probably is his biggest strength. He knows the nerve of the audience and most importantly he acts according to it. There was a time when no matter what requests were being made by the fans, they fell on deaf ears.
However, even Gods have struggled to keep up and they have slipped as well but that doesn't mean we disregard them. Without drawing comparisons, Hunter is simply another human and despite all the right noises, he has slipped up too, not as frequently as Vince McMahon did, but he has had his errors too.
Here is what Twitteratti had to say about the mistakes of Triple H
Now one may ask, what exactly did HHH did wrong and to be honest this question was asked at the loudest by an official Twitter account called Just Talk Wrestling.
The account shares its content from WWE, Impact Wrestling and AEW and has been doing pretty fine. The very moment fans got an opportunity to talk about where did Hunter go wrong, they were all over the place, criticizing the moves of Triple H.
Well, that is how social media works, no matter how many good things, you would still be pinned and pulled because people simply don't want to pass up on an opportunity to talk trash. They are at their artistic best when you ask them to criticize. Here is what Twitteratti had to say about this entire show run by Hunter.
Some could be pre-HHH

– Notpulling the trigger on Rhodes at WM is far away n.1.
– Development on some of the NXT call-ups. (Gargano, Lumis, LeRae & Hartwell, Hit Row)
– No titles for D. MacIntyre, wasting his best years away.
– Money in the bank winner being a throw-in Theory.

— Mat the Habs and Colts fan (@SportsTalkManQC) July 11, 2023
I can't say if this was a HHH or a Vince L, but it's the biggest one WWE, or any promotion has ever made, WM39 end. Cody sold more merch than anyone, all week long, even more than Roman. "Someone" in WWE could have changed the ending then, but…nope. pic.twitter.com/2LlUKIXN0T

— Billy Thee 𖤐 G.O.A.T.𖤐 🐐🏴‍☠️ (@PlayZeeGame) July 11, 2023
Cody not winning at WM 39

They kept the belt on Roman to update their record books. A long reign for the sake of having a long reign. Everything happening now could have been without the belt. He hasn't defended since April. It also would have made the Brock feud make sense.

— Early Stoppage MMA (@EarlyMMA) July 11, 2023
Theory cash in, Liv vs. Ronda at SummerSlam, women's tag team division in it's entirety, Bianca retaining at Mania just to drop it anyways at NoC, Reigns retaining, Judgment Day getting their asses beat weekly and losing their big matches until Extreme Rules then again at EC/WM

— LuvYT (@LuvYT_) July 11, 2023
The only major fumbles

– LA Knight losing at MITB
– Theory's US title run
– The Women's Division

I would put Cody losing on here but the Bloodline stuff has been great so I'm starting to think it could've been the right choice for Roman to go over.

— Alex (@AJG424) July 11, 2023
"Long term storytelling" which ironically is a golden shovel

The women's division

Elias and Ziggler

Bringing all his NXT kids with zero plan for then (Kross)

LA Knight

— EdmontonMan (@BLoobama) July 11, 2023
His voice is definitely irritating AF

— Superrnaah (@superrnaah) July 12, 2023
Not finding a Manager for Seth Rollins… I am old school and to me When Seth opens his mouth I wan to change the channel… Most times I do… If he would just Shut up and Wrestle he would be much better.

— The World's Greatest DJ (@ATSAUTWGDJ) July 11, 2023
Going to give you a really great arguing point that in no way is Vince McMahon "lurking in the shadows" and is the baseball conversation one of extremely few mistakes Triple H has made. Under McMahon we can all agree that it wasn't a matter of. Would he but more when would he…

— Joseph "The Demon "Albanese (@DemonEvilMuscle) July 11, 2023