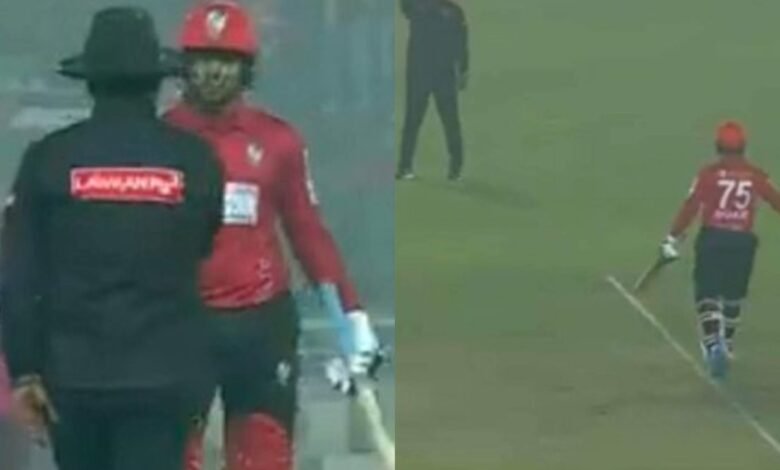 Fans on Twitter reacted after Bangladesh batter Shakib Al Hasan expressed his anger on umpires for not giving a wide. They lashed out at the all-rounder for his gestures and said that he shouldn't have done this and questioned him for screaming.
Shakib Al Hasan gets furious at the umpire for not giving wide during BPL 2023
Bangladesh Test captain Shakib Al Hasan has always managed to hog the headlines for both his on-field and off-field antics. He has often been seen criticising and questioning umpires for his decision.
However, this time around, Shakib did another similar thing that made many criticise him. Playing for Fortune Barishal in Bangladesh Premier League 2023, the all-rounder lashed out at umpires once again. The batter was a receiving end of a high bouncer, which was not called a wide and was given as one bouncer for the over.
Shakib was not happy with the umpire's decision as he screamed at the square leg umpire and then went towards him angrily remonstrating with him for the decision. The 35-year-old then walks towards the umpire at the bowler's end and has a few words with him before walking back to his crease.
Here's the video:
A wide not given by the umpires makes Shakib Al Hasan furious. pic.twitter.com/KPgVWmYtrg

— Mufaddal Vohra (@mufaddal_vohra) January 7, 2023
Shakib notably, did a similar kind of thing in the Dhaka Premier League in 2021 as well. He kicked stumps and later uprooted them and threw them to the ground while arguing with umpires over decisions.
Fans on Twitter react as Shakib Al Hasan gets furious at the umpire for not giving wide during BPL 2023
As Shakib Al Hasan got furious with umpires for not giving wide during BPL 2023, fans on  Twitter reacted to it. They weren't happy with the all-rounder's gestures and criticised him for screaming at umpires. Here are some of the reactions:
his angry outbursts are the only reason I even hear about this brudda any more https://t.co/mr3ysjNkYz

— Adithya10 (@Adithya109) January 8, 2023
Shakib keeps making cricket looks like football.
Pathetic cricketer 🤮 https://t.co/ycDOYZdppu

— Poornama🏏 (@iam_poor9) January 8, 2023
I'm just surprised he didn't kick down the stumps in anger and frustration. Doesn't change the fact the it was an extremely poor umpiring decision. But trust Shakib to make the umpires look like saints in comparison. https://t.co/FRPW4qfRyI

— महादादा (@mahadada) January 8, 2023
Men will act like this and still won't get therapy smh https://t.co/BVC9G7JWTT

— cobain 💭🌌 (@thinkimdumb_) January 7, 2023
This is not the first time he behaves in this way.. 🥴 https://t.co/BXVXdlnWr8

— Naresh 🇮🇳🇨🇦 (@NareshKumarS7) January 7, 2023
How does he get away with these repeated reactions to umpiring decisions against him? https://t.co/P2wD5s5XLM

— Dhiraj Kachare (@DrDhirajkachare) January 7, 2023
This time he didn't take off stumps nor he threatened umpire

He was just furious and not violent

This has come down to this actually #Cricket #BPL2023 https://t.co/cuFooxQQSu

— Tahir (@15___blade) January 7, 2023
Shakib be like "Nayak nhi, khalnayak hoon main." #CricketTwitter #BangladeshPremierLeague #BPL2023 #ShakibAlHasan https://t.co/U4cqqHZj8u

— Aayush Mahajan (@CricGlance) January 7, 2023
Y he is screaming 😱😂🤭 https://t.co/UAJ1KtS3Mb

— ᏙᏆᎫᎪᎽᏢᎡᎪᏦᎪՏᎻᎷႮՏᏆᏟ 🎧🎤🎶🌈👻 (@vjprakashmusic) January 7, 2023
psycho https://t.co/rSYDSisnuS

— Gandhi Kannan (@gandhi_offcl) January 7, 2023
He should be banned https://t.co/CSUn7nY5Qz

— Aman (@AmanDVSJ) January 7, 2023
Shakib or kohli Who is better umpire ? https://t.co/s28fGPc0x8

— Rashid khan (@Rashidullah196) January 7, 2023
Shakib AL Hasan gives teachers his homework! https://t.co/l4c8VEIn4o

— Rohit_RatedR (@Rohit_RatedR) January 7, 2023