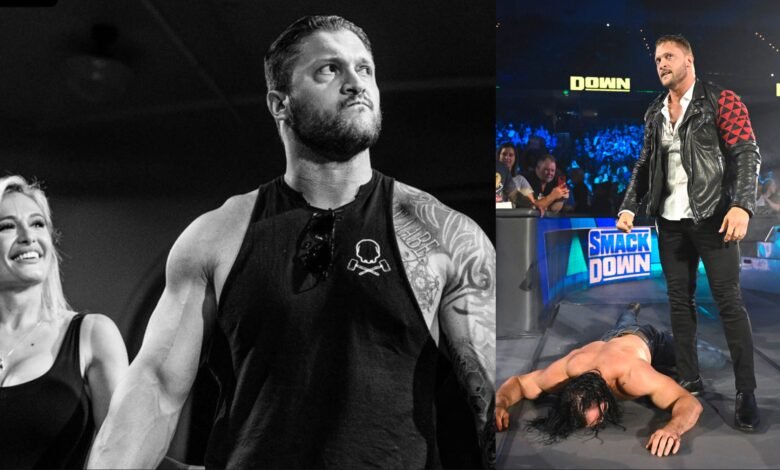 Karrion Kross will reportedly not be present at WWE Clash at the Castle, much to the dismay for the WWE Universe. He returned earlier this month and immediately attacked Drew McIntyre brutally and then challenged Roman Reigns for his undisputed titles. His wife Scarlett Bordaeux hinted at a feud between Roman and Kross.
Since then, he has been sending sinister messages on SmackDown every week for both challengers, raising speculation on his involvement in the title bout happening at Cardiff. Some fans have even linked his return with Bray Wyatt.
Rumors were rife about the match at Clash at the Castle being converted into a triple threat with Kross added to it, then it was being speculated that he would interfere in the match causing either of the two challengers to lose because of him. All these theories have been choke slammed down the drain and Kross isn't even boarding the flight to Wales now, as per Xero News.
Kross will NOT be at clash at all.

— Xero News (@NewsXero) August 26, 2022
What's next for Karrion Kross in WWE?
Kross' schedule is reportedly going to be tight in the coming months though. At Extreme Rules, the next pay per view after the Clash, he is reportedly facing Drew McIntyre and rumour has it that he is facing Roman Reigns at Survivor Series 2022 in a big money match. It is however still a mystery if Kross is involved in a title match and with whom.
Pedro Morales is the only Puerto Rican to ever hold the WWE Championship. @realKILLERkross has the opportunity to become the second Puerto Rican to hold that title.

Make us Boricuas proud 🇵🇷💪🏼😎

TikTok ⏳ pic.twitter.com/mPF8klyiMt

— Juanito's Wrestling Vlog & MORE (@juanitosvlog) August 26, 2022
He left a message for McIntyre on SmackDown last Friday and is being advertised for in ring action next week right before the UK PPV, which again adds fuel to fire of the rumors of his involvement at the pay per view. Whatever the case may be, Karrion is a strong contender for the world titles and provides a much-needed break from the monotony of same challengers being recycled for every pay per view. Tick Tock…Let's wait and watch…