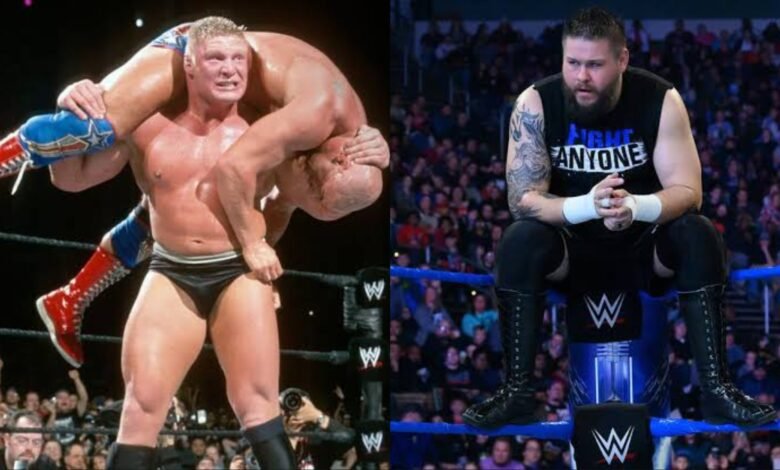 Welcome to today's WWE Clash at the Castle 2022 News Roundup, featuring all the news floating around and about the WWE Universe at one place. A current RAW Superstar gets into a twitter war with fan and hilariously changes name to mock fan.
Two top real-life wrestlers once got into a legit brawl but who emerged victorious? Shocking result. Also, WWE Couple had a disagreement over match spots. Let's break the suspense and find out the details now:
Kevin Owens features on today's WWE Clash at the Castle 2022 news roundup
No, Brett.

I'm going to start copying everyone even more.

In fact, my name is now Kevinn.

And you think you're the only one that can take a selfie in front of a body of water while looking miserable?!

Nope. https://t.co/lLGr6gOv0o pic.twitter.com/AQ20B4TU45

— Kevinn (@FightOwensFight) August 17, 2022
Kevin Owens is well known to pick fights with everybody and especially fans on Twitter. He is The Prizefighter after all. But he has taken his insult game up a notch this time for sure. After this week's RAW, he was getting into it with fans yet again when he locked target with a fan named Brett.
After exchanging "pleasantries" with him, Kevin gradually turned his name to "Kevinn" to mock this fan "Brett". He even shared a photo of himself standing in the exact same position at the fan's profile pic to mock him even more.
Hilarious as he may seem, Owens is a Heel in the true sense of the word and carries his character to the bed. This week, he cut a promo before his match with Drew McIntyre and said he hasn't held a title in 5 years and it's time for a change, thus looking past his feud with Ezekiel who Owens brutally attacked last week.
With this attitude, The Prizefighter is on his way to finally win a Prize soon.
Brock Lesnar and Kurt Angle dominate today's WWE Clash at the Castle 2022 news roundup
Kurt Angle says that Brock Lesnar was a star from the start 💯 pic.twitter.com/gb5AIPI41u

— WrestlingWorldCC (@WrestlingWCC) June 26, 2022
Olympic Gold Medallist Kurt Angle and NCAA champion Brock Lesnar are two of the toughest legit real wrestlers to ever step foot inside the squared circle and they had once faced each other in a freestyle wrestling match as well that happened backstage.
WWE Hall of Famer Gerald Briscoe says that this match was an impromptu one and despite being the smaller man, The Olympian was seen as the winner. According to him, Kurt was as fast as lightning and took down Lesnar who tried grabbing the ropes for leverage but was taken down eventually.
He says there's a reason why Angle was the best in the world, an Olympic Gold Medalist whereas Lesnar was just the American champion.
"Once again, you're the Olympic champion for a reason. You're the best in the world. You're the national champion for a reason. You're the best in the United States. But the United States isn't the world. Kurt was the best in the world. Brock was the best in the United States." said Briscoe in a recent interview with Sportskeeda. 
But this bout didn't go down well with chairman Vince McMahon, who let Briscoe have it and scolded him for letting the two top stars of the company risk injury in this Real fight.
We just wish there was some footage of this clash of the titans which could've been every fan's dream come true.
Rusev and Lana in disagreement over a match spot
Lana has revealed that she wanted to be put through the table in a match and she had pitched the spot to WWE higher ups but the idea was put down by her husband Miro (formerly known in WWE as Rusev) thinking about her well being.
She has further revealed that Miro and later the chairman of the board Vince McMahon, were both against the idea. But McMahon later on gave in to her persistence and let her do the table spot with Nia Jax which continued week after week as Jax put the Ravishing Russian through the announcer's table continuously in a weird and heavily criticized chain occurrence. Lana would get her revenge in a RAW match where Nia finally went through the table putting an end to the rivalry.
Lana was easily one of the most glamorous superstars on the roster and if she wasn't released last year, she could have proven to be an asset to WWE. She has since focused more on her acting career and her husband has found his calling in AEW.