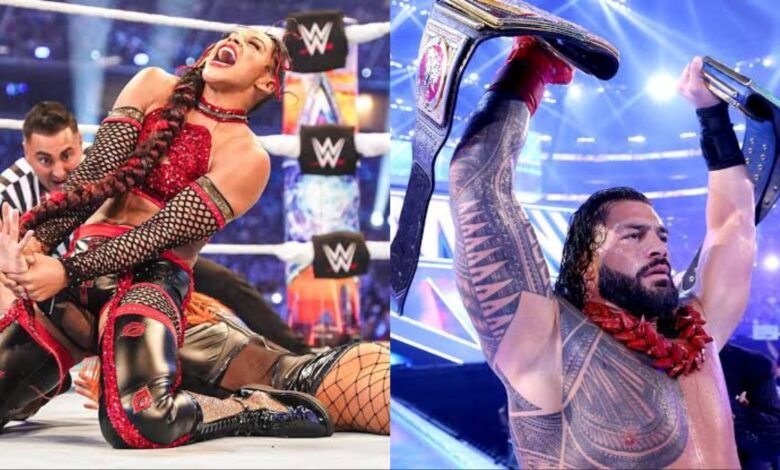 After what seemed like a mixed bag of opinions for the WWE Elimination Chamber that had a handful of aah-oohs to a string of disappointing grunts, we are finally on our road to WrestleMania that would be heading Hollywood. Fans in India are excited to know WrestleMania 39 date and time.
An interesting set of matches will most likely be formed before the biggest event in the wrestling entertainment takes shape but the ones that were up for grabs were equally bedazzling at the Elimination Chamber.
Asuka walked out as the champion in the WWE Elimination Chamber while Austin Theory needed some serious resilience to defend his US Championship. The match between Bobby Lashley and Brock Lesnar had no head and tail while the contest between Roman Reigns and Sami Zayn was the most entertaining event of the day.
Let alone any match-up but the fact that the American Nightmare awaits for the Tribal Chief at the WrestleMania, that itself is the biggest inducement for you.
Whenever it's the big day in WWE, expect a few returns, expect a few heartbreaks and most importantly may even expect The Rock to cook something significant. But no matter what, WrestleMania always brings happiness to the faces of many.
Now with all said and done, there are a few questions that will need some answering and that is exactly what we are going to do for you. So buckle up and here are your answers.
On which date will WWE Wrestlemania 39 start in India?
The Wrestlemania 39 entrance is gonna be insane if they're already this loud pic.twitter.com/Yy4V2ifMHH

— Violet 💚 (@BloodyViolet64) February 14, 2023
WWE WrestleMania 39 will be starting at 6:30 AM on 2nd and 3rd April. In order to discuss the match card, the experts panel will converge and start bouncing ideas of each other in the Pre-match show that starts at 5:30 AM.
At what time will Roman Reigns vs Cody Rhodes start at Wrestlemania 39?
The main event between Roman Reigns and Cody Rhodes will most likely be the last contest and may start at 9:30 AM.
WWE Wrestlemania 39 is live on which TV channel in India?
WWE did a Becky & Seth Rollins as Batman & Joker #WrestleMania 39 movie trailer.

Amazing.

— Wrestle Ops (@WrestleOps) February 19, 2023
WWE WrestleMania 39 will be live on Sony Sports Ten 1, Sony Sports Ten 1 HD (English), Sony Sports Ten 3, Sony Sports Ten 3 HD (Hindi), Sony Sports Ten 4 and Sony Sports Ten 4 HD (Tamil and Telugu). You can also live stream the PPV if you have subscription for the Sony LIV app.