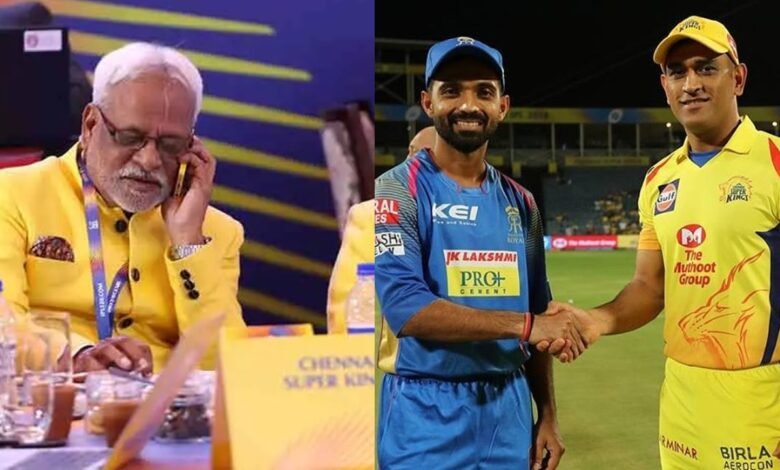 Fans on Twitter reacted in joy after Chennai Super Kings (CSK) buys Ajinkya Rahane for his base price of 50L in the IPL 2023 auction. They feel that it's a good bid for a team as he's captaincy material and also can be used whenever the team will require it.
Chennai Super Kings (CSK) buys Ajinkya Rahane for his base price at 50L
The IPL 2023 auction is currently taking place in Kochi. Players are going under the hammer. Talking about Chennai Super Kings they have made a decent buy as they bought Ajinkya Rahane for INR 50 lakhs.
Rahane played for Kolkata Knight Riders (KKR) in the IPL 2022 and was midway ruled out of the tournament after he suffered a tendon tear in his left hamstring. He wasn't up to the mark with the bat last year as he displayed poor performances with the bat.
Rahane managed just 133 runs in seven innings at an average of just 19 and a strike rate of 103.90. It remains to be seen how the new team environment will favour him. Overall in 158 games, Rahane has managed 4074 runs at an average of 30.86 and a strike rate of 120.68. Also, he has scored 2 hundreds and 28 half-centuries in the tournament.
With IPL 2023 being the last season for MS Dhoni as a skipper, Rahane can also be a good captaincy choice for the team. He earlier had led Rajasthan Royals in the tournament. This will his fourth IPL team after playing for Rajasthan, Delhi Capitals and Kolkata Knight Riders.
Fans on Twitter react as Chennai Super Kings (CSK) buys Ajinkya Rahane for his base price at 50L
As Chennai Super Kings (CSK) buys Ajinkya Rahane for his base price of 50L, fans on Twitter reacted to it. They lauded the team for the purchase. Calling the batter as a captaincy material and also can be used whenever the team will require it. Here are some of the reactions:
Top 5 scorers main hoga is bar😂😂#CSK https://t.co/oYVytRdk8K

— Vishesh Choudhary (@ChVishesh_) December 23, 2022
Replacement for uthappa ? https://t.co/vA4xUK00tI

— Charan (@urscherry3) December 23, 2022
Shi jagah aaya hai @Crazybakchod https://t.co/jKPe84yx4b

— Invincible (@singhan44230971) December 23, 2022
— 🆃🆁🅰🆅🅰🅽🅲🅾🆁🅴 (@Hari_offcl) December 23, 2022
could be good 😬 https://t.co/FWpbMUXAZd

— साहेब 🇮🇳 (@saaheb21) December 23, 2022
Super buy jusst base price https://t.co/XlhlIjUoir

— ▄︻デ 🆂🆃🆁 🆅🅴🆁🅸🆈🅰🅽🆂 ══━ (@_STR_off) December 23, 2022
Captain material only In 50 lakh 🙏 #IPL2023Auction https://t.co/kcdKrT2YKd

— Ⲙ𝒶ภis𝔥 (@7atori) December 23, 2022
Rahane-rutu-rajavardhan-mukesh-tushar-solanki
All is from Maharashtra

Full support💪💪💪 https://t.co/0tDygp6LfG

— Shubham🇮🇳 (@shubham2588) December 23, 2022
Dhoni + Rahane😍😍 https://t.co/I777FkYHJf

— Dinesh dhfp (@dineshkohlifan) December 23, 2022
Typical CSK https://t.co/vf3YrLyu1m

— Amrit (@xplosssive) December 23, 2022
Great buy💪💪💪 https://t.co/T4jAP8BLQO

— DevilX (@GodkingDemacia) December 23, 2022
Rahane will be there as a replacement for uthappa, might perform well under thala

— Rishi Raj (@Rishii_i) December 23, 2022
Rahane prime loading

— Prachi (@PrachiG77) December 23, 2022
What a steal!!!!
How can Rahane put his base price so low?

— LazyLoki (@Aditya66026572) December 23, 2022
Congratulations 👏👏 csk

— CricAddict😮‍💨 (@Bandkarcupnamde) December 23, 2022
Thala Rahane 🔥

— ً (@Ro45Goat) December 23, 2022
good for base price

— Acnologia (@Acnologia_19) December 23, 2022