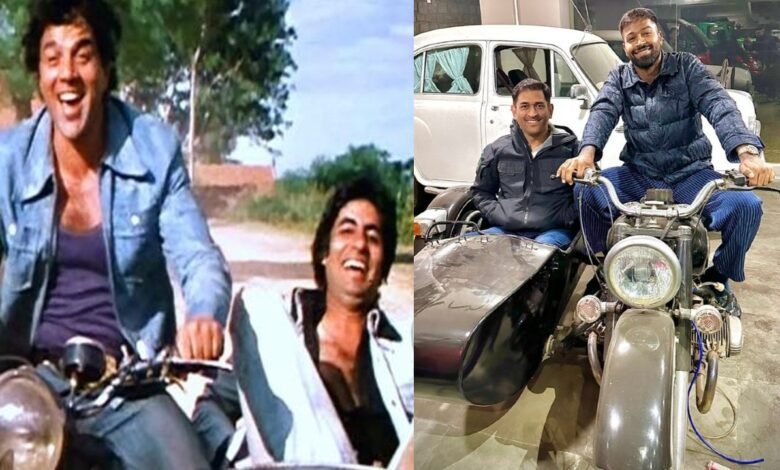 Fans on Twitter reacted in joy after the Indian captain for the T20I series against New Zealand met former skipper Hardik Pandya at his place in Ranchi. They were happy to see both players giving a Sholay movie picture pose and said what if they both really release the second part of the iconic movie.
MS Dhoni and Hardik Pandya tease fans with Sholay movie picture pose
Hardik Pandya and MS Dhoni gave their fans a moment of joy as they posed for a picture at the latter's house. Both were sitting on a bike and teased fans saying that they will release Sholay 2 picture soon.
Both Hardik and Dhoni share great camaraderie between them as they often have been seen roaming and celebrating together. The duo has been quite vocal about their relationship in public as well with the all-rounder mostly crediting the former Indian skipper for his success.
Hardik is currently with Indian Cricket Team in Ranchi. He will lead the team in the three-match T20I series against New Zealand. From the picture, it seems that the all-rounder stayed at Dhoni's home last night.
Dhoni on the other hand recently was seen having a net session to prepare himself for the IPL 2023. He will captain Chennai Super Kings in the league and it'll probably be his last season.
Here's Hardik and Dhoni's picture: 
Sholay 2 coming soon 😉 pic.twitter.com/WixkPuBHg0

— hardik pandya (@hardikpandya7) January 26, 2023
Fans on Twitter react as Ms Dhoni and Hardik Pandya tease fans with Sholay movie picture pose
As Ms Dhoni and Hardik Pandya teased fans with Sholay movie picture pose, fans on Twitter reacted to it. They were happy to see both players posing and said what if they both really release the second part of the iconic movie. Here are some of the reactions:
New captain coming soon 😉 https://t.co/Oil5SMbFuT

— P Agastya45 (@PankajAgastya) January 26, 2023
MS and HP ❤️❤️ https://t.co/aH8nDjX5o7

— cricbuff 🇮🇳🏏 (@007nikhilsharma) January 26, 2023
Mere dono favourite ek sath 🔥🔥
Love you 1. @msdhoni
2. @hardikpandya7 https://t.co/qwuQ1PdYek

— Narsingh Mahto (@ADianNarsingh) January 26, 2023
Waiting .. https://t.co/2jTdoZgcxp

— SSMB 🔥🔥💥💥 (@chennaashok7) January 26, 2023
These 2 🧿🫂♥️ https://t.co/ExqMYkNTXS

— ❥ѕняєуα (@minifizzz) January 26, 2023
First day first show dekhungi ❤️😍🤩🤩🥳 https://t.co/rvo8Fk4lQv

— Esha (@ShivholicEsha) January 26, 2023
What if It Really Happens How They Look 😅❤@hardikpandya7 @msdhoni https://t.co/h7x3ShwM6n

— xRonny (@xronny_legit) January 26, 2023
We already know where all the inspiration and guidance coming from… https://t.co/RdoDY3WfDl

— JAG (@Degage59) January 26, 2023
Eagerly Waiting 😂❤️ https://t.co/Nb83TFathW

— UP47wale (@UP47wale) January 26, 2023
Loved the pic , MS bhut masoom lag rahe hain 😂 https://t.co/ShpOw66Z76

— diwesh singh (@diweshsingh6) January 26, 2023
Can't understand how such 2 opposite personalities are such good friends 🫠 https://t.co/98C2JYgVVC

— MK (@NotMK45) January 26, 2023
One more Cool Suresh for Thala 🔥🔥🔥 https://t.co/8EellP6okS

— Bruce (@Wayneetech) January 26, 2023
😭Oyeeeee. So freaking happy😭❤️ https://t.co/gvl2FW3ziN

— SIRI SAHASRA (@sirip122) January 26, 2023
the bond between these two♥️♥️♥️♥️ https://t.co/gIfwlkUE9W

— Bhargav (@Bharrrgav) January 26, 2023
My 2 fav 😍 https://t.co/L3hjYcM71K

— Ranjan (@niftywiser) January 26, 2023
Two captains
One past , one future https://t.co/LFNZ1t2rXW

— Samrat  (@samratsp3) January 26, 2023
Omg😍😍😍😍😍 https://t.co/ab0w1ppFij

— Samiksha (@samiksha_1234) January 26, 2023
The mentor and disciple! https://t.co/LoKiHUI3xv

— rohitbalakrishnan (@rohitkrishnan) January 26, 2023
Happy to see MSD 🥹 https://t.co/BzHqBeHrJr

— 𓃵L O K E S Hⱽⁱʳᵃᵗ (@lokeshBangaram) January 26, 2023