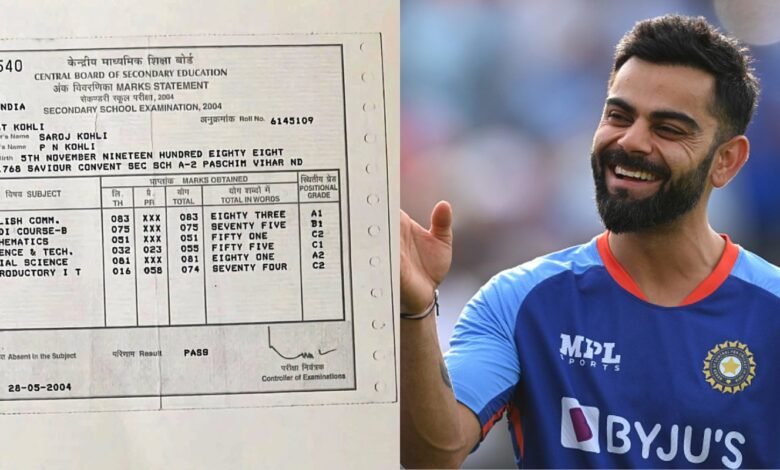 Virat Kohli is one of the most popular celebrities in India. Almost every day, his name is trending for one reason or another. On Thursday, it was for a different reason that he was trending. An old marks sheet of Virat was made available and soon, the picture went viral. Here, we take a look at how Twitter reacted as a picture of Virat Kohli's 10th Class Marks Card goes viral.
An important IPL season for Virat
Meanwhile, Virat Kohli is at a crucial stage of his career. Many counted the player out but after a break, he came back strong with terrific performances in the Asia Cup and the T20 World Cup. After his break, he has scored centuries in all three formats of the game. Considering the selectors are now a bit harsh on non-performers, even Virat has to be on his feet. Hence, IPL 2023 will be important for him.
For RCB, too, Virat in good form is a necessity. Last season, Virat was not in great touch and RCB required the others to step up. However, this time, Rajat Patidar is injured while Glenn Maxwell is coming from an injury. Dinesh Karthik is not in excellent form while Faf du Plessis only plays league cricket. Hence, Virat Kohli is the only active international batter in the line-up and therefore, he has to be in good form.
Picture of Virat Kohli's 10th Class Marks Card goes viral
On Thursday, out of nowhere, the 10th standard marks sheet of Virat Kohli went viral. Soon, as fans got to see the rare side of Virat, there were many reactions on social media. Many of them were on the lighter side. A few also observed how Virat has become a legend although he was not exactly great at school. We take a look at some of the other reactions below:
Wasn't great at Maths and yet calculates run chases so well! @imVkohli https://t.co/KjboKgEjg7

— Manish Batavia (@manishbatavia) March 30, 2023
Virat Kohli left maths for RCB fans to calculate their playoff chances https://t.co/6a78KM271m

— అశ్వద్ధామ/ ashwathama (@ashwathama21) March 30, 2023
He's me 😭🤣 https://t.co/j2RJs9wxJf

— stylendra 💙❤️ (@stylendra) March 30, 2023
But he was talented at cricket too at that age. It's too late give up 🥲🤝 https://t.co/DklfBZ2RRM

— KSV777 (@VishwaruPant) March 30, 2023
"A single sheet of paper can't decide my future"! https://t.co/3GWL97yHxE

— GAURAB (@gaurab_sinha) March 30, 2023
Even I got the same percentage in class 10th ……. Love from heart ❤@imVkohli https://t.co/2CeNNrcuhj

— kumar hritik (@hritikk_thakur) March 30, 2023
Very solid marks but one thing I've always observed the ones with not so high averages usually end up being up the successful ones. The ones with bookish knowledge usually end up not making it big in life as one would expect!! https://t.co/TRGBEABnts

— Troll cricket unlimitedd (@TUnlimitedd) March 30, 2023
King was bad in Maths but decided to improve Maths of his fans by forcing them to do calucations for rcb qualification 🥵🥵🔥 https://t.co/iZ6rarpWGU

— WALTER WHITE 🇮🇳 (@WalterWhitePbks) March 30, 2023