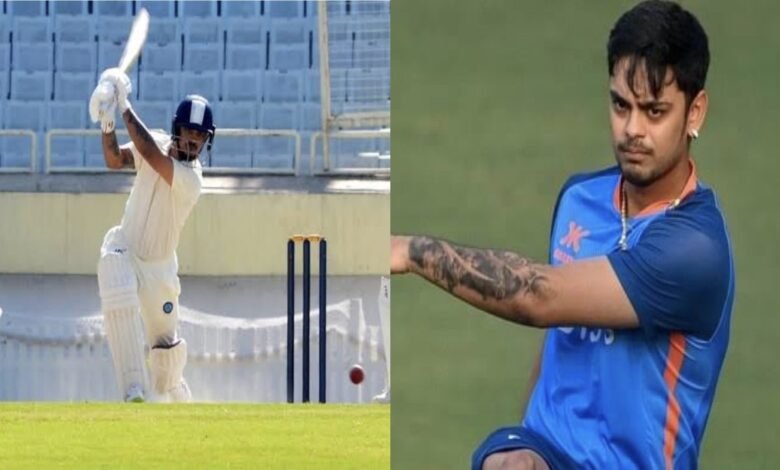 Fans on Twitter react as wicketkeeper batter Ishan Kishan is likely to make his debut in the 4th Test against Australia as per reports. They weren't happy with the development and said that it'll be an unnecessary change going into the World Test Championship Final.
Ishan Kishan to make his debut for India in Tests – Reports 
The Border-Gavaskar Trophy 2023 has given fans everything to cheer about. The battle between bat and ball has been staggering as both the teams have on sensational performances and have left no stone unturned to put each other under pressure.
After two enthralling wins in the first two games, India suffered a disappointing loss in the third Test in Indore. They were outplayed by the visitors, who won the third game by 9 wickets to make the series 2-1.
Be it with the bat or with the ball, Australia was better than India and marked their first win in the series. With this win, they also qualified for the World Test Championship Final.
The focus now shifts towards the final game of the series that will be played in Ahmedabad from 9th March. It'll be an extremely crucial game for India considering their chances for the WTC Final. They would be hoping to rectify their mistakes and come back better in the last game.
With just one day remaining for the final Test of the series, it is learned as per reports on Indian Express that Ishan Kishan is likely to make his Test debut for India in Ahmedabad.
If the reports emerge to be true, Kishan will replace KS Bharat in the team. The right-hander hasn't quite lived up to the expectations with the bat in the three games and it's fair to say that team would be tempted to bring in someone who can score sone quick runs down the order, much like what Rishabh Pant used to do.
Fans on Twitter react as Ishan Kishan to make his debut for India in Tests as per reports 
As Ishan Kishan is likely to make his debut for India in Tests as per the reports in 4th Test, fans on Twitter reacted to it. They said that it's an unnecessary change and gave some mixed reactions. Here are some of them:
Yeah. Bharat is problem. Otherwise India would have won the last game. https://t.co/hhOswbQbud

— 𝓜𝓮𝓰𝓱𝓪 🏏 (@CricMegha) March 8, 2023
Panic button has been pressed https://t.co/Xo6mWBiViK

— Delhi Capitals Fan (@pantiyerfc) March 8, 2023
Don't see this happening. Unless our players think they belong, they won't be able to give their best. And test cricket does test your worth in every way possible. https://t.co/RlONz9swYd

— IMHO (@sportsandlyf) March 8, 2023
Well, after all the backing talks they replaced KL (rightly so) now replacing Bharat won't make sense because he's been a fantastic keeper especially with reviews and sharp catches, so I hope this turns out to be false tomorrow. https://t.co/LXj1uHA0bx

— Pranav Nair (@leg_gully) March 8, 2023
😂😂😂. Starc is gonna rip him and Shreyas apart https://t.co/fACNBxdhOz

— RJK (@rahul_jk) March 8, 2023
If true – ridiculously bad call. 1. Bharat is 10x the keeper Kishan is – on a turning pitch Kishan will struggle big time with the gloves.

2. What is the point of having an incumbent keeper if you give him 3 games. So much for backing https://t.co/XnpffNXqY8

— Vyom Nanavati (@vyom_nanavati) March 7, 2023
Ohh that the reason last ahmedabad t20 match against nz he played like test cause he wanted to debut in 4th test nice (idk where is the logic in this qrt but still I want so) 🙂 https://t.co/XkuUj0dxjV

— Aahana (@batakavada18) March 7, 2023
Why are people obsessed with performance of the wicketkeeper and bowlers? 🤦‍♂️
Fix the top order. Bharat is anyways here for few Tests only. #INDvsAUS https://t.co/AKA68xXmRP

— Cow Corner (@CowCorner183) March 7, 2023
Unnecessary change going into WTC Finals https://t.co/nprlWeZBSw

— Sam🕷️ (@Expelliarmus98) March 7, 2023
although KS Bharat has been average so far.. Still this is not justified

the next game after this is WTC final.. Should continue with bharat till then https://t.co/ZSo9zHCBGB

— Alpha Mike ↗️ (@Alpha_V18) March 7, 2023
Grossly unfair on KS Bharat. https://t.co/C7Rq3Pawjb

— Udit (@udit_buch) March 7, 2023
Just play KL and make him keep instead of doing this. Shubman at five. https://t.co/DlYecE7WbU

— 🙃 (@TerribleAtFPL) March 7, 2023
I don't think it's a good idea…!!!

Wicket Keeping on turning tracks is not a joke. #Ishan also needs to work on his batting against spin. I hope it doesn't happen.

Instead India can drop a pacer & play #SKY. https://t.co/NDjUSyZ2Tg

— A_Verma 🔗 (@A_Verma05187) March 7, 2023
First ball six loading https://t.co/7O8rigzaPc

— RK (@Rk_7784) March 7, 2023
Are we in for some fun ?? Or I am overexpecting ? https://t.co/lMsgnFtufi

— 𝙿𝚛𝚊𝚋𝚑𝚊𝚟 𝚃𝚎𝚗𝚐𝚜𝚎 | प्रभव टेंग्से (@t_prabhav) March 7, 2023
It took one loss to panic. What happened to the specialist keeper theory now? https://t.co/cDt2OAwNoj

— ∆nkit🏏 (@CaughtAtGully) March 7, 2023
Not fair yaar .. Bharat batted poorly but kept well..
Won't take more than 2 balls for Lyon to dismiss Ishan https://t.co/n8rgLiow6T

— KedarHirve (@KedarHirve) March 7, 2023
Free wicket for Nathan Lyon 🤦🤦😭 https://t.co/DQf7GeWpff

— N Y C T O P H I L E 💛 (@pranavvishu) March 7, 2023
Wow. Great opportunity for Ishan. ❤

I really hope that he'll make the best use of it. Let's go pocket dynamite. 🔥#mumbaiindians #ishankishan https://t.co/xKqy1D0mUc

— 𝘈𝘥𝘪𝘵𝘺𝘢𝘢 #TJMM 😍 (@_socialvegan) March 7, 2023
If it happens ishan will be 3rd test cricketer from patna after subroto Banerjee & Saba Karim.#INDvAUS https://t.co/FPfWS0XI0V

— Vishal (@Fanpointofviews) March 7, 2023
Why not give half as long a rope to Bharat as KL? https://t.co/GyHorIzRpx

— Gachibowli Divakar (@Gachib0wliDvakr) March 7, 2023
just bcoz team needed left handed now KS need to be dropped? https://t.co/0aHXPfJYgI

— Atish (@atishj7) March 7, 2023
On what basis. You can't score runs and u expect a debutant in ks bharat to smash hundreds.#INDvsAUS #AUSvIND https://t.co/cE1KsZzeKp

— HCC- The Honest Cricket Community (@hcc_cricket) March 7, 2023
Why KL Rahul can't keep Wickets?
Who knows that KL Rahul will start performing better at Middle Order?
In my Opinion he should take the Opportunity to Bat at Middle Order and keep Wickets in Test Cricket. https://t.co/NcAgFfHtTn

— Abhimanyu (@abhimanyusrt) March 7, 2023
What is this nonsense selection. https://t.co/PESKgor1F7

— Liverpool Fnatic (@LiverpoolFnatic) March 7, 2023
He is a mug against offspin magar KSB bhi se bura nahi hoga. His keeping is what interests me. https://t.co/648afllrtO

— Headingley+Multan Hero Joel Wilson (@SamaLucilfer) March 7, 2023
Having one left hander at No.4 is not a bad idea https://t.co/JBA8SIlgbd

— Karan (@karannpatelll) March 7, 2023
Fucks sake, at this point they're just playing musical chair with spots https://t.co/8f87QXIwRE

— Aryaman (@eywhatever) March 7, 2023
I see, More than KS Bharat being shit, This decision is an indication of Ahemdabad track being a good batting wicket.

Great news for finished Kohli & Pujara. https://t.co/w7fdDPntt2

— Siddhu Not Moosewala (@SiddViz) March 7, 2023
In place of Bharat https://t.co/msDZIsh80h

— Nitish (@IamNitish98) March 7, 2023
Feel for bharat man waited almost 10 years and after 3 matces he'll replaced on a road wickts. Unreal injustice to him😕😕 https://t.co/246rjpJ1k3

— Vaibhav (@Vaibhav9668) March 7, 2023
I just wanna see Ishan's big 100 https://t.co/Gg9zwqhsrB

— Akshat (@44thWhen) March 7, 2023