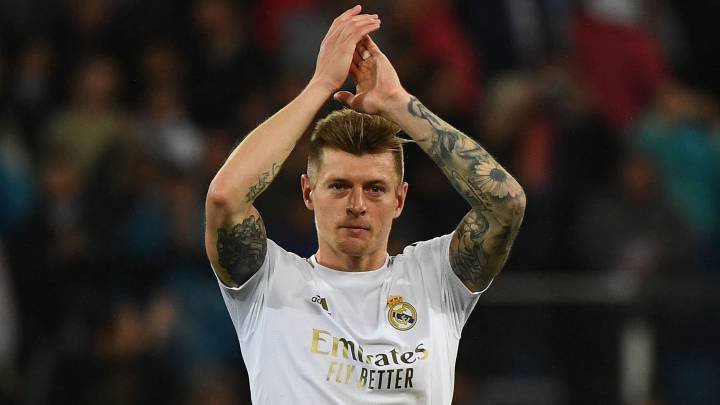 Toni Kroos is one of the finest midfielders to ever grace the game of football and one of the most decorated to have ever played it. The Real Madrid midfielder, who turned 30 earlier this year, has already won the World Cup with Germany, the Bundesliga with Bayern Munich, La Liga with Real Madrid and the Champions League with both clubs.
The German midfielder came through the ranks of Bayern Munich's youth system before moving to Real Madrid in the summer of 2014 for a reported fee of £22.5m. In a recent interview with Eurosport, he opened up on the move, stating: "In hindsight, you can say that one or the other regretted letting me go. Even if Bayern are not used to a player leaving voluntarily, it was just like that- absolutely nothing got stuck."
Also Read: Real Madrid logo: What does it mean?
The midfielder also said that he expects to finish his career with Madrid, ruling out the possibility of a reunion with Pep Guardiola in England. Kroos almost moved to England in 2014 when he had a verbal agreement with Manchester United but the move fell through after the club sacked David Moyes.
His current contract with Real expires in three years when he will be 33 and at that age, he says it will be too late to pursue a career in the Premier League. "If something comes together and you say 'okay, one more year, because you are just good enough and you still feel like it, I would not rule it out. But a move to England, which is also played very physically, I can't imagine that at 33."
Kroos, however, admits that nothing is certain in football: "Three years in football are long- three years at Real Madrid are even longer."
Meanwhile, Kroos also feels that since moving to Madrid from Munich, his status in Germany has changed. "Before, I was just seen as another German player from Bayern and that the national team had many players similar to me. However since moving to Madrid and all the success I've had there, the majority view has turned positive and I am seen differently. At Munich, there was no chance of that happening."