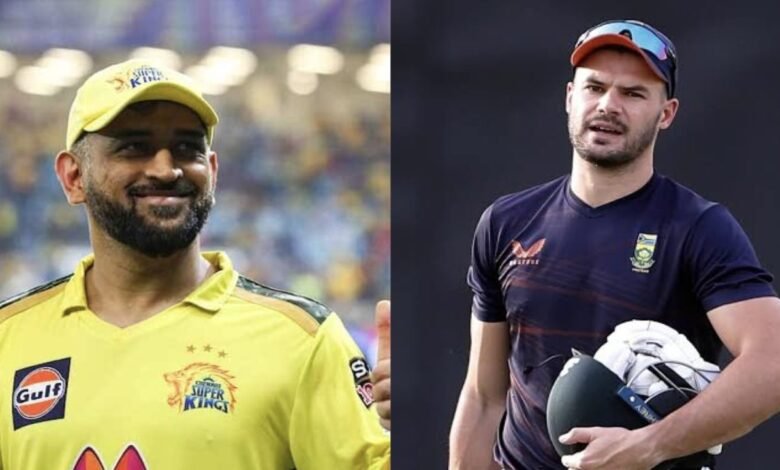 South African batter Aiden Markram has opened up about the possibility of Indian players playing in SAT20. He said that he would want Chennai Super Kings (CSK) skipper MS Dhoni in his side as players will learn a lot from him.
"For our local players in South Africa to be able to spend time with someone like MS Dhoni would be great," says Aiden Markram 
There has been lots of debate of BCCI not allowing Indian players to play in the overseas leagues. Many fans and pundits have shown their interest and have expressed their desire to see Indian stars like MS Dhoni, Virat Kohli, Rohit Sharma and many others in the foreign league. But so far there doesn't seem a light at the end of the big tunnel for his debate.
Talking about MS Dhoni, the keeper-batter arguably has been one of the best cricketers and finishers in the history of the game. Being among one of the few batsmen who have massed over 10,000 runs in ODI, the 41-year is often credited for taking Indian cricket to new heights.
Not only in international cricket, but he also showed his mettle in IPL as well. Apart from scoring truckloads of runs in the league, Dhoni-led Chennai Super Kings (CSK) to four IPL titles. He's the main reason behind Men in Yellow being the second most successful franchise.
South African star asked about the possibility of Dhoni being part of SA20. He remarked that it would be great for the local players to spend time with someone of his experience and calibre. He said.
THE. WAIT. IS. OVER. ⏳#OrangeArmy, say hello to our new captain Aiden Markram 🧡#AidenMarkram #SRHCaptain #IPL2023 | @AidzMarkram pic.twitter.com/3kQelkd8CP

— SunRisers Hyderabad (@SunRisers) February 23, 2023
"To be honest with you, someone like MS (Dhoni) would be great to have in your camp just for the guys to be able to learn from him. He has got all the knowledge and has seen everything that this game has produced. For our local players in South Africa to be able to spend time with someone like MS Dhoni would be great. That's one that comes to my mind, firstly but there would be a lot of players that would be discussed for sure."
Aiden Markram opens up about becoming SRH skipper for IPL 2023 
Sunrisers Hyderabad recently named Aiden Markram as their skipper for the IPL 2023. He talked about that and was asked to choose his vice-captain between Bhuvneshwar Kumar and Mayank Agarwal. He said:
"It's a tough one. I have played under Mayank Agarwal at Kings for half a season. He and I got on really well. On the other hand, if you look at the amount of experience someone like Bhuvi has, it's almost irreplaceable. So to pick one is a difficult one, right now. But both of them would nail it certainly." 
Markram recently led Sunrisers Eastern Capes to SA title win in the inaugural season and SRH would be hoping to replicate that success in IPL which is scheduled to start on March 31.