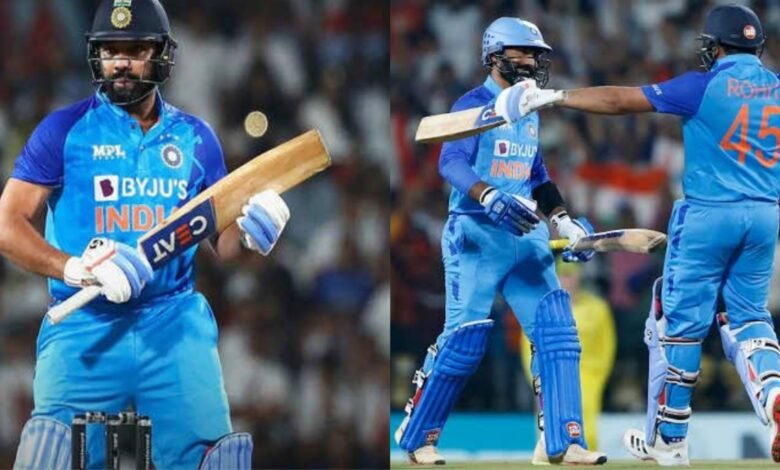 The Indian captain Rohit Sharma, who played a match winning knock of 46 off 20 in the last night's shortened T20I game against Australia, revealed that when 13 runs were required off 7 balls towards the end of the game and India lost their 4th wicket in the form of Hardik Pandya, he thought about calling on Rishabh Pant, but then he changed his mind and called on Dinesh Karthik.
After Hardik Pandya's wicket, Rohit Sharma hit a boundary off the bowling of Pat Cummins to bring the equation down to 9 off 6 and then Dinesh Karthik hit a six and a four off the first two balls of the last over to finish the game off.
In the post match presentation ceremony, Rohit revealed that he guessed Daniel Sams would bowl the last over of the innings and he also knew that Sams' gameplan would be to bowl off cutters. Rohit has captained Daniel Sams in the IPL and in one of the games against Gujarat Titans, Sams had defended 9 runs in the final over of the game against one of the most destructive left-handers, David Miller.
I thought Dinesh Karthik would be a good option against Daniel Sams: Rohit Sharma
Rohit said that he thought Dinesh Karthik would be a good option to counter Sams and what he thought turned out correct, as Karthik managed to find boundaries off the first two balls that he faced from Sams. The right hander went across his stumps on the first ball to cover the line of the off cutter and lofted it round the corner over the long leg boundary for a six.
Rohit Sharma said, "there was a thought if we should send Rishabh Pant, but I thought Sams gonna bowl off cutters so let Dinesh Karthik come in. I'm so glad he finished the game".

— Mufaddal Vohra (@mufaddal_vohra) September 23, 2022
Sams' natural reaction on the second ball of the over was to go short and Karthik was ready on the backfoot this time to pull the ball in front of square in the long gap that was there between deep square leg and deep midwicket boundary to finish the game off for India.