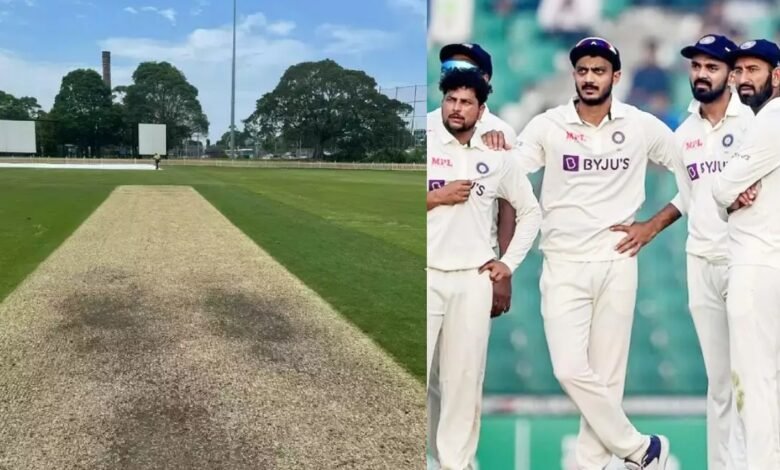 Fans on Twitter reacted after Australia prepares on rank turner Sydney wicket for the India series. They said that although are getting ready for the Indian pitches but what will they do about the spin trio of R Ashwin, Ravi Jadeja and Axar Patel?
Australia prepares on rank turner Sydney wicket for India series
India will face Australia in four-match Test series that will begin on 9th February in Nagpur. The second game of the series is slated to take place on 17th February in Delhi followed by the third and fourth games scheduled to be played on March 1st and 9th in Dharamshala and Ahmedabad.
The series will extremely be crucial in the context of the World Test Championship as it'll decide the finalists. Both the teams have been staggering in the longest format of the game and are currently first (Australia) and second (India) on the points table, separated by the barest of margins.
While India is unbeaten at home since last decade, Australia under Pat Cummins is an extremely dangerous side to face as they are yet to lose a series, winning both at home as well as overseas. If the Rohit Sharma-led side wins the series then it is likely that both sides will face in the final of the World Test Championship as well.
With just a few days remaining before the start of the series, Australia is leaving no stone unturned in its preparations for the series. They have made Sydney pitch a rank tuner like Indian pitches and are getting used to the conditions there.
Here's the wicket they are preparing themselves on.
Australia prepping in Sydney for the BGT series against India in India. pic.twitter.com/0H9a178k2F

— CricketMAN2 (@ImTanujSingh) January 29, 2023
Fans on Twitter react as Australia prepares on rank turner Sydney wicket for India series
As Australia prepares on rank turner Sydney wicket for the India series, fans on Twitter reacted to it. They lauded the Pat Cummins-led side for their preparations. They said although are getting ready for the Indian pitches but what will they do about the spin trio of R Ashwin, Ravi Jadeja and Axar Patel. Here are some of the reactions:
Pitch Is fine but did they find dupes for @ashwinravi99 @imjadeja ? https://t.co/4iF7PPhDgA

— 233 Giridhar sai (@sai_233) January 29, 2023
They can replicate the pitches but what about them https://t.co/lw96wWCDKd pic.twitter.com/XDPlRc3ErJ

— Transition Time (@Anonymized3V) January 29, 2023
One last time for this generation Australian cricketers…They are taking it very seriously now..Hoping for good series now🤘 https://t.co/QcoLTEhnL7

— Krish✌✌ (@sai_krish18) January 29, 2023
LMAO. The face of Indian cricket right there https://t.co/tc73M8rBp2

— 🖤 (@ameye_17) January 29, 2023
Bastards will get owned again https://t.co/duyHICCwra

— 👨🏾‍🦼 (@incelmanlet69) January 29, 2023
This time I think Australia is taking this series seriously.

— 🇮🇳 Vipul Sehgal (@VipulSehgal312) January 29, 2023
pitch toh le aaoge pr Ashwin,Jadeja and Axar jese skills knha se laoge

— Cat's attorney (@Vhagharx) January 29, 2023
It will be a nail-biting contest this time..stakes are high for both the teams 😊👍

— Indian First (@ProudIn92280996) January 29, 2023
Le jaddu and Ashwin hold my tea😆😆 ☕ no matter what how many days they were prepared like that but it won't easy playing in India against our spinners is too difficulty

— srinivas (@Sriniva00191493) January 29, 2023
Can't wait to watch Ashwin-Jaddu-Axar trio in action. It is going to be an intense test series against Australia 🙃

— Vivek._.M (@Viv666viV) January 29, 2023
This time Kuldeep and Axar also taking seriously bhai. Kuldeep inclusion in Squad advantage.

— Harish (@Harish_SPE) January 29, 2023
Our spin attack is very strong
Ash-Kul-Jaddu

— Cricket lover (@Cricket60626252) January 29, 2023
Ashwin 🔥

— Pal Saurabh (@pal_saurabh_1) January 29, 2023
Ashwin Anna jaddu kuldeep will own them

— He Tweets (@cricket7tweets) January 29, 2023
Pitch toh kar loge but
Ashwin Jadeja Kuldeep jaise bowler kaha se laoge😭

— AMIT (@Amit_g777) January 29, 2023
All this to getting owned by akshar patel😭

— Jatu (@Jatu53412313) January 29, 2023
They are preparing for spin meanwhile Siraj and shami have other ideas..

— AKSHAT GUPTA (@iamakshat__) January 29, 2023
This is level of BGT🔥

— Sumit Kodavala (@sumit_kodavala) January 29, 2023