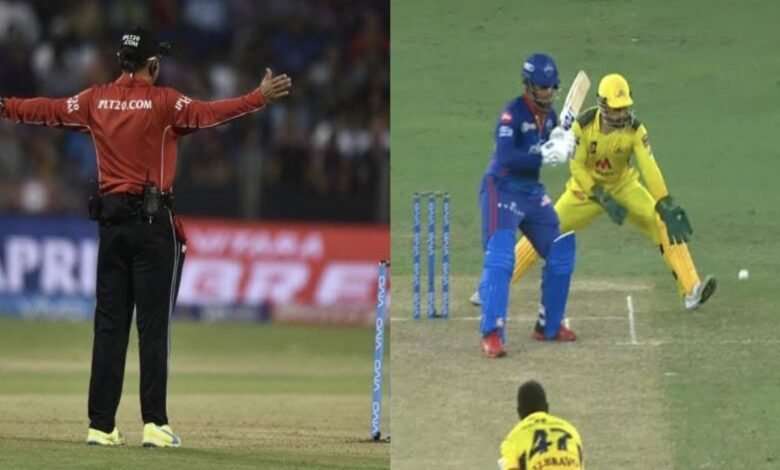 Fans on Twitter react as players reportedly can take reviews for Wides and no-balls in IPL. They were happy with the development and said that it is the best thing that could happen in the league.
Players can take reviews for Wides and no-balls in IPL – Reports 
In what has been the latest development as per the reports in ESPNCricinfo, players can take reviews for wides and no-balls in IPL. The development came after the rule was in effect during the first few games of the ongoing Women's Premier League 2023.
The countdown for the Indian Premier League (IPL) 2023 has begun. The cricket carnival is all set to return. The IPL 16th will take begin from 31st March with the final set to take place on 28th May. The teams have started to prepare themselves and are leaving no stone unturned in the build-up to the tournament.
The tournament will be played across 12 venues in Ahmedabad, Mohali, Lucknow, Hyderabad, Bengaluru, Chennai, Delhi, Kolkata, Jaipur, Mumbai, Guwahati and Dharamsala. The league this time will see 70 games being played.
The tournament opener will be played between defending champions Gujarat Titans and four-time title winners Chennai Super Kings at the Narendra Modi Stadium. The tournament will be played in its old method as teams will play seven away and seven home games.
The 10 teams have been divided into two groups. Group A is boosted by Mumbai Indians, Rajasthan Royals, Kolkata Knight Riders, Delhi Capitals and Lucknow Super Giants. Whereas Group B have Chennai Super Kings, Punjab Kings, Sunrisers Hyderabad, Royal Challengers Bangalore and Gujarat Titans.
Fans on Twitter react as Players can take reviews for Wides and no-balls in IPL as per Reports 
As Players can take reviews for Wides and no-balls in IPL as per reports, fans on Twitter reacted to it. They feel that it is the best thing to happen in the league and give some joyful reactions. Here are some of them:
Thank goodness https://t.co/VOpq216WTm pic.twitter.com/JOu8n0CkoA

— Pikachu (@newwuserrs) March 6, 2023
The Man The Myth The Legend 🐯 https://t.co/DgoT6k1Hho pic.twitter.com/g8FI6NpwrY

— koti (@nagkoti007) March 6, 2023
What is the need of umpire then? https://t.co/fWENGnnapQ

— ❤️ 𝕻𝖗𝖔𝖋𝖊𝖘𝖘𝖔𝖗 ❤️ (@Liben_Danny) March 6, 2023
The BESTTT thing that could happen ❤‍🔥 https://t.co/DdIx2epxpJ

— Ramachandran bharath (@rambharath97) March 6, 2023
Should come with a limit not more than 2 or 3 https://t.co/V2SHUbNhsY

— Anirban (@Anirban12021) March 6, 2023
Prudent call. I've long argued for it. It's the "decision" review system, not a dismissal review system. In a format like T20, it's baffling that it has taken the game's custodians this long to wake up to this issue. https://t.co/bilYrIDKsk

— KASHISH (@crickashish217) March 6, 2023
Already it is working well in #WPL so how many reviews allowed? https://t.co/yvaQlcBz03

— My conscience/என் மனசாட்சி (@machanae1) March 6, 2023
That's a great twist 😂 https://t.co/AqPsx63VAz

— Tinny🥀 (@ItsRithuHere) March 6, 2023
Great for controversy and more drama 😁 https://t.co/q6ENuUsAut

— Starlord (@NotTheDarkBlade) March 6, 2023
While it's a good step, they should straight away go to ball tracking after checking for a edge. But it would be really funny if someone reviews for for a wide and gets out caught behind 😂😂😂 https://t.co/SzYpirl1nV

— Kartik O 🏏⚽🔗 (@KOCricket528) March 6, 2023
Best rule😌🤝 https://t.co/9jJvyEDULS

— ꧁Ɽł₮HVł₭ ࿐💖💙 (@RRithvik_18) March 6, 2023
Improving the game of cricket. @rajasthanroyals u beauty https://t.co/KbOPIsuNM6 pic.twitter.com/DeEAayal5u

— Nite (@Royals2008) March 6, 2023
Big Headache for NITIN MENON from this #IPL2023 https://t.co/2tVbTP4Dn5

— ᗷOᗷᗷY ᕼᗩᖇIᔕᕼIT YADAV⚪️ (@harishit_bobby) March 6, 2023
I guess they should be separate https://t.co/DWi6lwWr6N

— Kakashi (@ramanaXtweets) March 6, 2023
Great https://t.co/qpWwsBRLB0

— Priyanka 👑 (@iPriiyanka) March 6, 2023
This is a gamechanger! #IPL2023 https://t.co/svayTi8tYQ

— Varun Kaushik (@varunkaushik18) March 6, 2023
Finally https://t.co/amtVhFzXWy

— ᴘᴀʙɪᴛʀᴀ ᴍᴏʜᴀɴᴛʏ (@PabitraMohant11) March 6, 2023
— … (@a22sp07) March 6, 2023