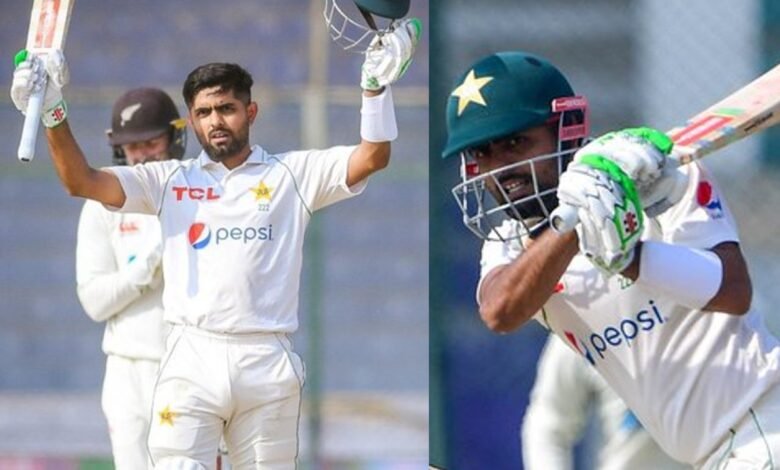 Pakistani Fans on Twitter erupted in joy after Pakistan skipper Babar Azam smashes a ton in the first Test against New Zealand. They lauded the batter for his staggering effort with the bat and thanked God for giving them a diamond.
Babar Azam smashes his 9th Test hundred in the first Test against New Zealand 
Pakistan skipper Babar Azam yet again rose to the occasion and bailed his team out of trouble. Opting to bat against New Zealand in the first Test, the hosts lost early wickets and were tumbling at 110/4.
But Babar held his nerves well and led from the front once again as he batted staggering well and crafted his innings wonderfully. The right-hander looked a class apart and continued his golden touch with the bat in the longest format of the game and smashed his 9th century in Test.
Not only did he smash his Test ton but he broke Ricky Ponting's record for scoring the most fifty-plus score as a captain in a calendar year in international cricket. The former Australian skipper smashed 24 fifty-plus scores in 2005 whereas Babar Azam now has scored 25 fifty-plus scores in 2022.
He also became the leading run-scorer in Test cricket in 2022 as he surpassed Joe Root to also become the first player to 1100 runs. Babar this year has also 4 hundreds and 7 fifties.
Fans on Twitter react as Babar Azam smashes his 9th Test hundred in the first Test against New Zealand 
As Babar Azam smashes his 9th Test hundred in the first Test against New Zealand, fans on Twitter reacted to it. They lauded the batter for his valiant effort with the bat. They said that they are blessed to have a batter like him. Here are some of the reactions:
BABAR AZAM IS UNSTOPPABLE!!! WHAT A BEAUTIFUL SIX FOR 28TH CENTURY.

— Haris (@damnharris) December 26, 2022
4th Test hundred for Babar Azam in 2022, he has been in great touch in longer format, 4 hundreds & 7 fifties from 16 innings this year. pic.twitter.com/b2QllKgUSq

— Johns. (@CricCrazyJohns) December 26, 2022
Babar Azam becomes the leading run-scorer in Tests in 2022.

— Johns. (@CricCrazyJohns) December 26, 2022
Bobby ❤️🔥 https://t.co/9Kug73U5K7

— 🇮🇳 (@mave7781) December 26, 2022
King Babar Azam ❤️👑🇵🇰 https://t.co/5Gjdg4UUda

— Noman Murtaza🇵🇰 (@noman_murtaza) December 26, 2022
Top, top player, especially at home. Conversion rate improving, too. #PAKvNZ https://t.co/ly4sQqKN6k

— Sean Wilson (@WilsonFC2012) December 26, 2022
Pied Piper of Pakistan 🥷 https://t.co/nUdREfR8xy

— Sameel Khan 🇵🇰 (@SameelKhan_08) December 26, 2022
He's the all-format king 👑

— Farid Khan (@_FaridKhan) December 26, 2022
King of karachi 👑🔥

— Shoaib💗 (@Hey_Shoaib76) December 26, 2022
#GOAT𓃵 pic.twitter.com/dk2dds5LLv

— Hammad khan (@Hammadhazarvi77) December 26, 2022
king pic.twitter.com/9RhB29zMt5

— Naim Naim (@NaimNai55636723) December 26, 2022
King #BabarAzam𓃵 showing his Greatness 😍🇵🇰👏

— Abdullah (@AbdullahSid892) December 26, 2022
He is a good player and may be the best in Pakistan.

— Braj (@Braj_Saroj) December 26, 2022
He is getting better & better, and making new records on his name

— Mac Moshahid 🇧🇩 (@MacMoshahid) December 26, 2022
He is goat, extra ordinary cricketer.

— Kamalakant Parhi 🇮🇳 (@kamalakantparh2) December 26, 2022
Greatest cricketer to hold the bat

— Parthiban (@Parthi2078119) December 26, 2022
He's the king of Cricket!

— Younus Basheer (@YounusBashir__) December 26, 2022
Amazing 🙌🙌

— 🫧🤗ROCKINIT (@Rockinit72) December 26, 2022
Another great innings by great batsman.lucky to watch you live at National stadium.congratulations Babar azam 👏👏

— Saleem Khaliq (@saleemkhaliq) December 26, 2022
Babar RECORD BREAKER Azam🤲🏻

— Avinash Aryan (@AvinashArya09) December 26, 2022
He came when Pakistan score was 16/2 and delivered again with Century. He is carrying 22 crore hopes alone on his shoulder. Despite of that he gets criticism from chindi YouTubers of Pakistan.

Tum jitna neecha giraoge, ye Babar utna uthega. Love from India 🇮🇳 🙏🏻 pic.twitter.com/I8qIa6LEEf

— Avinash Aryan (@AvinashArya09) December 26, 2022
Big sigh of relief. That Sukoon on his face. Chahe kitna bhi propaganda chalao. Chahe captaincy se hata do. Par Babar Azam ko runs banane se kisi ka baap nahi rok payega.

8th international hundred in 2022. There is no FAB 4.

There is only BABAR AZAM 🫶. #PAKvsNZ pic.twitter.com/owXFvGZPxk

— Avinash Aryan (@AvinashArya09) December 26, 2022