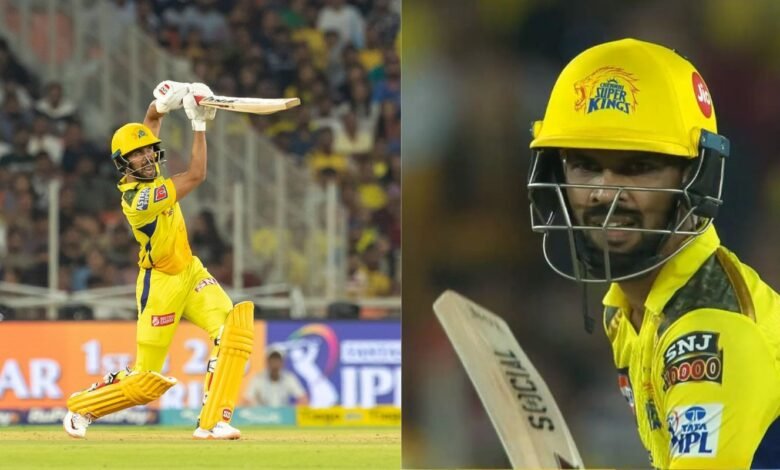 The first game of IPL 2023 is happening right now. Chennai Super Kings and Gujarat Titans are playing at the Narendra Modi Stadium in Ahmedabad. Ruturaj Gaikwad was in good form. Ruturaj Gaikwad scored 92 runs in 50 balls in the first match. Here, we take a look at how Twitter reacted as Ruturaj Gaikwad misses out on a well-deserved century.
A brilliant start to IPL for the Maharashtra cricketer
It was not an excellent last season for Ruturaj Gaikwad. He had a terrible start to the campaign and it was only later on that he made some impactful knocks. Even in the previous season, the start of the campaign was a bad one for Ruturaj. However, this time around, he has changed it and that is positive news for CSK and the fans. With him firing at the top of the order, a lot of options open up and this will eventually help the franchise.
It was a six-hitting display on Friday at the Narendra Modi Stadium. Ruturaj took on most of the bowlers, especially the pacers and launched them consistently over the rope. The cricketer was particularly impressive in the mid-wicket region, scoring a lot of sixes in that area. Overall, it was a fine effort by the youngster to start his IPL 2023 journey on an excellent note.
Twitter reacts as Ruturaj Gaikwad misses out on a well-deserved century.
Ruturaj Gaikwad has been on the fringes of the Indian Team for a long time now. India is trying to give a long rope to other players and hence, Gaikwad is missing out on opportunities. However, this IPL is crucial for him. If he does well, it would be hard for the management to not include him in the playing XI. To Ruturaj's credit, he could not have had a better start to the competition. He looked positive and the clean hitting entertained the fans, as well. Many were impressed with the player and here is how Twitter reacted to the same:
RUTURAJ GAIKWAD! Take your orange cap and leave son. It's over.

— Silly Point (@FarziCricketer) March 31, 2023
Ruturaj dealing only with sixes. pic.twitter.com/uzli5f1Mu3

— Johns. (@CricCrazyJohns) March 31, 2023
The match so far pic.twitter.com/aX3Okar2bp

— Heisenberg ☢ (@internetumpire) March 31, 2023
There will never be a young player better than Ruturaj Gaikwad. pic.twitter.com/H9QbSKAbdg

— ` (@rahulmsd_91) March 31, 2023
He is lighting up the #TataIPL. Breathtaking from Ruturaj. https://t.co/C5OkkaVdC2

— Harsha Bhogle (@bhogleharsha) March 31, 2023
Ruturaj Gaikwad what a spectacular innings 🔥
Just short of a well deserved century 💔#IPL2023 #WhistlePodu pic.twitter.com/J2kT5zaiQF

— Shivam Jaiswal 🦁💛 (@7jaiswalshivam) March 31, 2023
Ruturaj Gaikwad has middled 94% of the balls so far and he's batting at a strike rate of 225. pic.twitter.com/cxT6UCoF2C

— Heisenberg ☢ (@internetumpire) March 31, 2023
Ruturaj and the whole CSK batting unit today. pic.twitter.com/aoCYHBJczi

— ; (@AIH183no) March 31, 2023
End of that crazy knock of Ruturaj Gaikwad. Missed well deserved century. pic.twitter.com/aaQZoGOKwo

— R A T N I S H (@LoyalSachinFan) March 31, 2023
RUTURAJ WHATTA KNOCK😍😍😍😍 Deserved a century but oh well save ot for next match👍👍👍 @Ruutu1331

— Jo (@fallin_asteroid) March 31, 2023