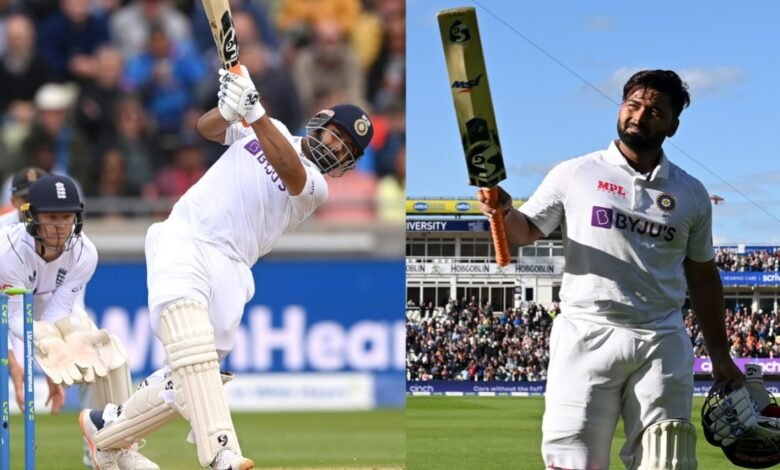 Rishabh Pant scored another eye catch, scintillating test match hundred for India yesterday when the team was in dire straits against England and the ball was moving around quite a bit. It was the 5th time that Pant crossed the three figure mark in test cricket.
It was not just the runs that Rishabh Pant scored, the pace at which he scored those runs, he ensured that from a bothersome situation of 98 for 5, India recovered to get themselves to a stage where it was all even stevens when the umpires declared the end of the day's play yesterday.
On his way to his hundred, Rishabh Pant also broke the records of two of the stalwarts of Indian cricket, Sachin Tendulkar and MS Dhoni.
MS Dhoni had held the record of scoring the fastest test match hundred by an Indian wicketkeeper batsman previously, as he had scored a 93-ball hundred against Pakistan in Faisalabad 16 years ago. It was also the first ever hundred of Dhoni's test career.
Pant got past that record as he completed his hundred in just 89 balls at Edgbaston with 15 fours and a six to his name. The left hander upped the ante even more after getting to the three figure mark as he smashed his next 46 runs off just 22 balls with four fours and three more sixes before eventually getting dismissed by Joe Root.
Rishabh Pant has hit more sixes in test cricket than he has hit in any other format
During his innings, Pant also broke the record held by the little master Sachin Tendulkar of being the youngest Indian batsman to hit 100 sixes in international cricket. Sachin had completed 100 sixes in international cricket at the age of 25, while Pant did it yesterday at the age of just 24 years and 271 days.
It's quite an amusing stat that Pant has actually hit more sixes in test match cricket than he has hit in any other format. As opposed to the 48 sixes that Pant has hit in the longest format of the game, he has hit only 24 sixes in ODIs and 31 in T20Is.