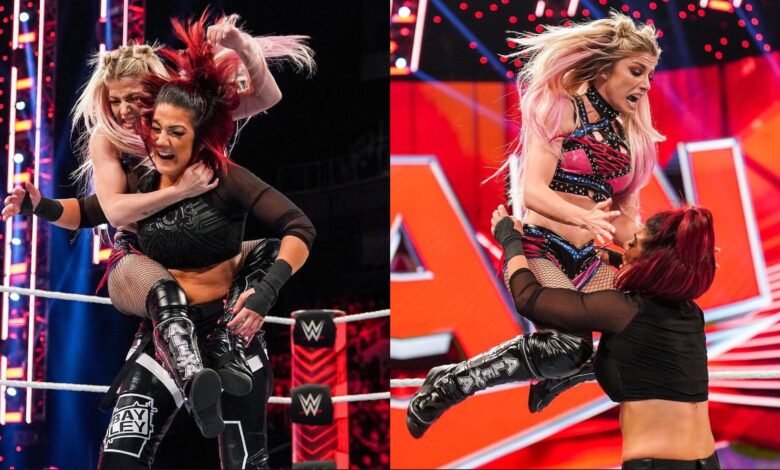 Former WWE chief writer Vince Russo has lashed out on WWE Superstars while watching the Alexa Bliss vs Bayley match on RAW. After an average promo at the beginning of the show, Alexa faced Bayley in the main event, in which Bayley won with the help of her teammates. They even attacked the champ Belair and Bayley challenged her for the RAW Women's Championship at Extreme Rules.
On the latest edition of Legion of RAW, Russo put down Alexa for "throwing punches" with her forearms. He wasn't particularly impressed with her promo work either.
"I swear to god man, it's amateur hour, it is amateur hour…Put the football game on the other channel. You'll see real pros at what they do? These are not pros, they are amateurs," he said.
He also pointed out that Bliss had projected an injured knee throughout the match but still did a summersault countering her own supposed injury.
"…blows out their knee and proceeds to do a summersault off the announce desk?,,, How many real fights do you throw your forearm at a person…" he exclaimed (46:40 – 47:40)
Will Alexa Bliss revert to a dark character in WWE soon?
Alexa has had some big losses recently in some big matches. Maybe it's time for a change of character for the former Women's champion. Maybe she can join forces back with Bray Wyatt if and when he returns. Bliss hasn't been much in the title picture ever since Wyatt left. He did ask her to "Keep it alive, keep it going" before he left, and she had expressed her desire to work with him 100% percent when he returns.
She still has her creepy doll Lily, which may point to the fact that WWE creative doesn't want her to be completely finished with creepy gimmick, she had with Wyatt.
I'm "Irrelevant", but yet I'm getting hundreds of comments on my tweets. So what is it? I don't matter, or I do? You've got to make up your mind. I'm getting very, very confused. Pick one—Please. THX!

— Vince Russo (@THEVinceRusso) September 20, 2022
As for Russo, he maybe a veteran behind the scenes but his opinions need to be taken with a pinch of salt since he has been bitter since his departure from WWE and does not hold back while criticizing them at every opportunity.