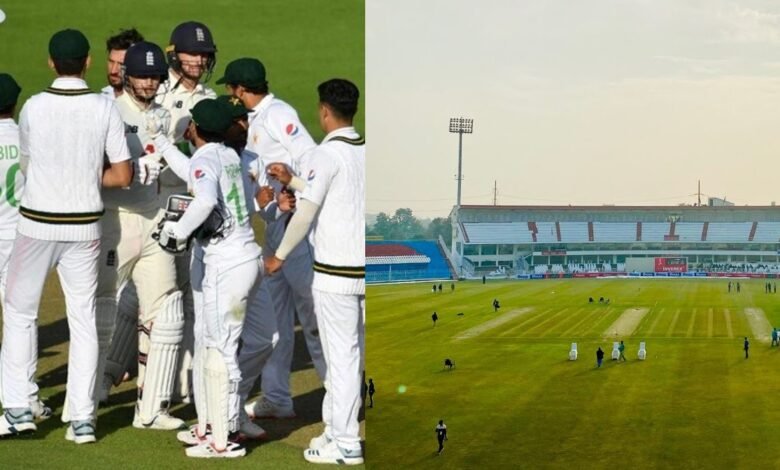 Pakistan will host England for a three-match Test series. The first game starts on December 1st in Rawalpindi. Here, we look at the pitch report of Rawalpindi Cricket Stadium and the weather conditions in Rawalpindi for PAK vs ENG 2022.
England, in recent months, has tasted success also in Tests. After Brendon McCullum and Ben Stokes took over the reins, it has been a good ride for the Test squad. However, against Pakistan, it will be a tough challenge for the Englishmen. They will be tested on their core spin-playing skills, which could define the fate of the tournament.
Pakistan, though, will have to win this series. They had earlier lost to Australia and the team would want to avoid a similar result. The likes of Babar Azam will look to step up in these three matches.
Rawalpindi Cricket Stadium, Rawalpindi pitch report for PAK vs ENG 2022
James Anderson's press conference is underway in Rawalpindi.

Watch Live ➡️ https://t.co/zpiamIrMih#PAKvENG | #UKSePK pic.twitter.com/mqIICypwYI

— Pakistan Cricket (@TheRealPCB) November 29, 2022
Also known as Pindi Cricket Stadium, the first Test on this venue happened in 1993. Since then, a total of 12 Tests have happened here. Out of this, six games have been won by the team batting second while only two matches went in the way of the team batting first.
The average score batting first here is 312. This is a score that both teams will want to achieve on a regular basis. Rahul Dravid once scored 270 on this pitch. That iconic knock is the best batting display here till now.
Rawalpindi weather conditions for PAK vs ENG 2022
What would you ask the boss? 🎙🗞 pic.twitter.com/MbCshzR3FX

— England Cricket (@englandcricket) November 28, 2022
We are in the last few days of the year and hence, the temperature is likely to be slightly lower in Pakistan. Across the five days of the game, the highest temperature is predicted to be 24 degrees Celsius. These will be ideal conditions for the game.
All five days of the game will be mostly sunny. Although there are some clouds that will be expected on Day 1 and Day 2, they are unlikely to be harmful. This is good news for the fans of the game in Pakistan.